GEMÜSEKISTE – VEGETABLE BOX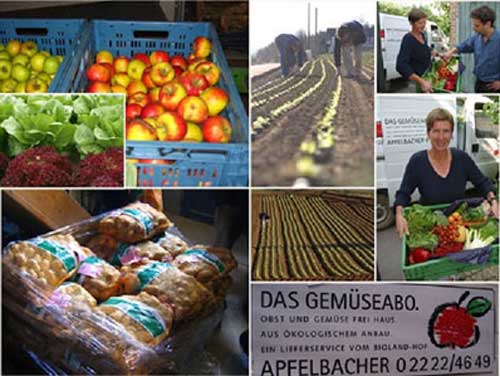 Home deliver service wich provides a box of biological grown vegetables, fruits and if wanted other food weekly.
Key Innovation
You get fresh, biological grown vegetables deliverd to your home to a reasonable price. In addition you obtain recipes and can also visit the farmyard.
Problematic background and context
It is quite difficult to buy fresh, biological vegetables and fruit to a reasonable price in big cities. The existing markets do not offer traditional vegetables or sorts wich do not create a certain profit or are difficult to grow or to handle. So the conciousness about the wide range of varieties and possible tastes is not supportet. Even if you find »grandmothers« vegetables most people cannot cope with.
Solution description
The Apfelbacher Gemüsekiste/Vegetable Box delivers weekly a box of vegetables and fruits. Several kinds of sortiment do exist: a basic sortimet only with vegetables, a sortiment with additional fruits, a single box and a family box. In addition to this sortiments you can order special vegetables and fruits (like potatoes, kiwi), bread , cheese and also tinned meat. The Vegetables are always fresh and in season. So often you are surprised by a unknown vegetable or something you never bought by your own cause you did not know how to prepare. For this alway a list of different recipes is added. If you are absent you can cancel the box two days in advance.
Timeframe
Existing for 10 yrs
Development phase
Diffusion:
In the Cologne area are two comparable competitors offering their services. The Apfelbacher Gemüsekiste is the most experianced one.
Maturity:
Working perfectly. E.g. changes within the order are possible two days before delivery.
Revenue/costs model
According the turnover or profit of the Apfelbacher Gemüsekiste we haven´t got any information.Since 1995 when the Apfelbacher family started the offer it increasingly grew and also the despatch company responible for the delivery of the boxes. A basic box costs about ca. 12 €. With this box a single person can live one week without the need to buy additional vegetables. Ca. 400 clients are registered.
Social evaluation
A conciousness about tradition, taste and the coherence of season and growth is fostered. One side effect is the awarenes that organic food must not be very expensive if there is a subscription system behind. A good idea is also to invite primary school classes and show them the farmyard and foster a counciuosness concerning nurishment.
Environmental evaluation
The positive effects for the environment are obvious.
Economical evaluation
The case shows that ecological production is a sustainable future concept. 20 yrs ago when the Apfelbacher family started the ecological farming in the surrounding of the village they stay about 30 small farmers existed. Today only the Apfelbacher family and one extensive farmer survived.
Authors
No author associated to the case.