PRENDE A CASA UNO STUDENTE/LODGE A STUDENT AT HOME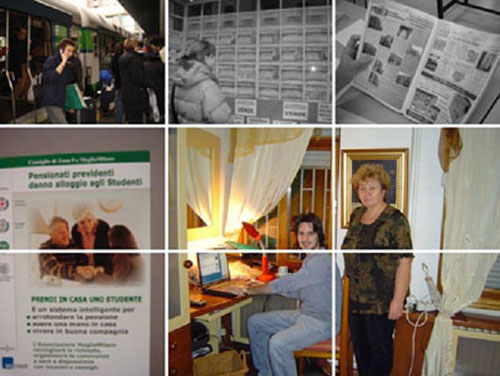 (Pensionati previdenti danno alloggio agli studenti) Provident pensioners lodging students in Milan.
Key Innovation
Lonely independent pensioners share their apartments with students, offering low cost accommodation in exchange of little help and contribution to house expenses.
Problematic background and context
Large Europeans cities like Milan are characterised by a huge demand for students' accommodation (in 2003 nearly 20.000 places were needed in the city) and an increasing number of elderly people living alone in town needing little help in every day's activities. In addition, the price of rooms in Milan is one of the most expensive in Italy forcing students to live in nearby cities and to commute everyday. Universities in Milan are not able to offer short time solution to students' accommodation problems, and students decide to study somewhere else with cultural and economical losses for Milan universities. Assistance to elderly people living alone in their own houses is increasing.
Solution description
The solution provides a service to improve the quality of life of elderly people, in search of company and security, and students looking for low cost accommodation. Megliomilano is an association which realised that independent elderly people could provide young students with low cost accommodation in change of little help. They started a communication campaign and received a lot of offers from elderly with at least one room free in their house, and a lot of requests from students. MeglioMilano with the help of a psychologist do the selection and interviews, visit the houses and do the matches. In this way, 12 intergenerational house sharing experiences started. MeglioMilano provides the users with free legal assistance and free psychologist support, they also ask for a weekly feedback from the users and organise monthly meetings with all users. The cost per room vary from 150 to 250 Euros per month (paid directly to the house owner) and small jobs are requested from the students.
Timeframe
The communication campaign was launched on June 2004. A Pilot project with first 12 intergenerational house sharing started on November 2004.
Development phase
Diffusion:
Previous experiences of intergenerational house sharing were successfully developed in Piacenza and Como, two small towns in Italy. In Milan it is an unique case and it is expected to have quite a big impact due to the dimension of the problems it is addressing. There are similar cases also in Barcelona and in London.
Maturity:
MeglioMilano aims at organizing and developing the service in three years, involving a maximum of 50 couples, and will look for another institution to manage it. Now, the service is at its initial stage, the first 12 couples (25 people) started on November 2004 and they are weekly monitored to get a feedback. Some elements of the service have been systemized, like forms for creating the user's profile and a database, but no creation of innovative products is foreseen
Revenue/costs model
The cost per room vary from 150 to 250 Euros per month paid directly to the house owner. The service is developed as a pilot project and there are no economical studies avaiable, at the moment. Resources and costs for the organization of the service are supported by MeglioMilano with little funds provided by a private company (RAS) that also promotes the initiative.
Social evaluation
The service gives immediate solution to two big problems in Milan: the lack of accommodations for students and the need of company and little assistance for elderly people living alone. The solution is at the same time reducing the gap within generations, providing new ideas dealing with problems of elderly people. Critical points: sometimes elderly people are not independent and use students as nurses (which is not the aim of the service, as students are supposed to go to university not to assist the elderly); a female user is emerging: elderly people look for female students, and students look for female elderly, reducing the possibilities for males to take advantage of the service.
Environmental evaluation
Reducing commuters also could mean reducing traffic, pollution and the use of public means which are chronically overcrowded.
Economical evaluation
There are clear economic benefits for both users of the service: elderly have some financial and practical help, students have access to low cost rooms, can afford to live and study in Milan and enjoy the cultural life of the city. The providers are using funds coming from the private sector and their own resources, but that would not be enough in the nearby future.
Authors
Anna Zavagno, Ahmet Ozan Sener / Politecnico di Milano / Italy