BC+ CYCLING ASSOCIATION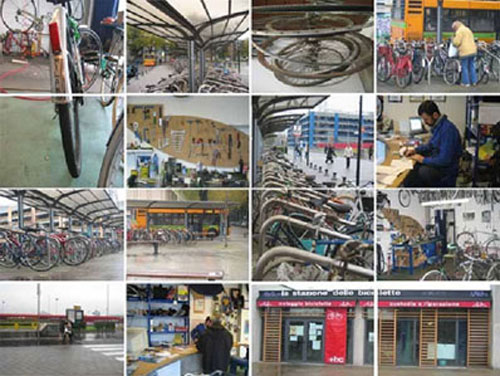 An association that promotes the culture of the bicycle to improve integrated mobility in the city.
Key Innovation
+BC provides services for the individuals to maintain and take care of their bicycles.
Problematic background and context
This type of solution is concerned with the development and diffusion of innovative models of integrated mobility to reduce environmental, economical and social problems in the city. +BC is located at the San Donato Milanese metro station and provides services in order to encourage people to use bicycles instead of private cars. The metro station of San Donato plays a critical role in integrating the center of Milan with the south east of the city. For this reason, the Municipality of San Donato, decided to improve the surrounding areas around its metro station.
Solution description
+BC (more bicycles, in Italian) is an association of bicycle experts, inventors and visionaries who stimulate and promote the culture of cycling in the city by supplying services like: selling and renting of second hand bicycles; technical assistance; do-it-yourself maintenance workshops; parking facilities and combating the market of stolen bicycles. It also organizes cultural activities and provides consultancy services on sustainable mobility. The services of +BC are open to the public and everyone can use the services without being a member or making a complex application.
Timeframe
The services provided by the association +BC are viable since one year. The outdoor parking area for the bicycles is viable since two years.
Development phase
Diffusion:
The idea of a bicycle station with added services exists in North of Europe since many years. In Italy however, the idea of combining a bicycle parking lot with services (renting, maintenance, repairing, indoor parking and the organization of courses and events) is a novelty. In Milan and in Italy this solution is a unique case.
Maturity:
+BC is making big efforts in order to optimise existing elements and to improve products and services. The overall system could be considered as optimized.
Revenue/costs model
The researchers had access only to the price list of the services: Bicycle Renting 1 hour : 1 €; 1 day: 8 €; 1 week: 20 €; 1 year: 40 €. Bicycle Parking 1 day: 2 € 1 week: 5 € 1 year: 15 €
Social evaluation
The solution empowers people by helping them to start using bicycles instead of using cars. Cycling contributes for a better environment and advocate for a healthier lifestyle.
Environmental evaluation
Integrating transportation (i.e. bicycle and subway) can help solving traffic and pollution problems in large cities. +BC also helps to extend the life of old bicycles by repairing (or teaching to repair) and selling them.
Economical evaluation
The Association +BC is a service, which generates possibilities for the users to maintain their own bicycles for a low price.
Authors
Didem Erciyes, Carlo Frisardi / Politecnico di Milano / Italy