Design Thinking in MBA Programs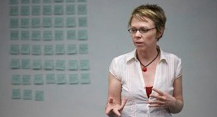 source: www.businessweek.com
Abstract
There are more and more new professionals emerging from interdisciplinary master's programs that integrate design, technology, and business. These professionals are trained in "design thinking" with the aim to merge design, business, and technology. The goal is to combine creative confidence and analytic ability. According  to a 2003 report by the Danish Design Center, increasing design activity such as design-related employee training boosted a company's revenue on average by 40% more than other companies over a five-year period.
Some programs are co-taught by professors from design, business, and other departments, such as at Stanford's Hasso Plattner Institute of Design. Others, such as a partnership between three schools in Helsinki Aalto University, bring together students from various universities for cross-disciplinary project work. Another approach: dual degrees in business administration and design, such as the MBA and Master's in Design program from Illinois Institute of Technology.
A particularly interesting example is The International Design Business Management programme (IDBM) in the Aalto University which is a joint teaching and research programme of three Finnish universities all leading and renowned institutions in their respective fields: the Helsinki School of Economics, the University of Art and Design Helsinki and the Helsinki University of Technology.
The purpose of the programme is to bring together experts in different fields within the concept of design business management. The objective of the IDBM programme is to train skilled professionals for key roles in international design business. The programme emphasizes the importance of design as a competitive factor among others, such as technology. This programme gives future marketers, engineering experts and designers an opportunity to practice important interpersonal skills through projects and courses.
Driver 
Social
What could happen if designers think like businessmen, while businessmen can easily connect to designers? So far, a positive and productive thinking emerged.
Economic / Industrial
Design as a key factor for innovation. Traditionaly designers are hierachly based under the marketing units. These MBAs put design on the marketing and Research & Developments levels.
Design / Art
Design thinking even generally misunderstood expands
Obstacle
Economic / Industrial
There's no apparent consensus on how to teach it.
Indication
Change in current innovation patterns
As designers get deeper and deeper into enterprises, innovation comes from closer and closer to the core of the companies
Source
Internet
Many references such as:
www.aaltoyliopisto.info/en/view/innovaatioyliopisto-info/aalto-university
project.hkkk.fi/idbm/index.html
www.businessweek.com/innovate/content/sep2009/id20090930_806435.htm