Street Fashion Blogs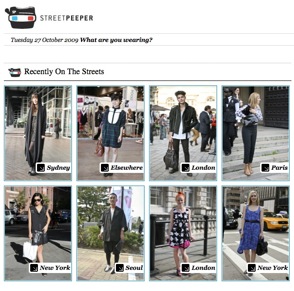 source: http://streetpeeper.com/
Abstract: Street fashion blogs are at the beginning the initiative of anonymous people posting in their blogs pictures they took in the area where they live of other people they consider dressed in an original and cool way. Most of them are not professional cool hunters. Some of these blogs are being progressively recognised as inspiration or trend-setting by the fashion community. (For example, thesartorialist blog was selected by Time Magazine as one of Top 100 Design Influences). A series of these street fashion blogs are then used as sources of inspiration for the fashion community and for trends watching in general . The innovation process consists in a diffused community of people that all other the world (especially in places recognised for their trend setting influence) selects innovative signals in the everyday life and provides them as a tool for creative industry.
Driver: 

Social
Fashion is currently facing the local/global trend: A certain fashion sense (usually from a specific location) can be potentially followed, liked or unliked or promoted as inspiration in another par of the world. People do not dislike mixity and multi-cultural inspirations in the way they wear themselves. + growing need of personalised and customised clothes… far from the big trends of Milan and Paris fashion companies.
Technological
Based on widely spread and extremely low cost technological tools like blogs that allow anonymous people to meet and generate (fashion) communities.
Economic / Industrial
idem
Indication:
Change in current innovation patterns
Anonymous people with interesting sources can become innovators in fashion, by being elected so by the community.
Sector specifics / cultural specifics:
This weak signal is specific to the fashion sector.
Source:
Internet
thesartorialist.blogspot.com/
hel-looks.com