Systems of living for the Cité du Design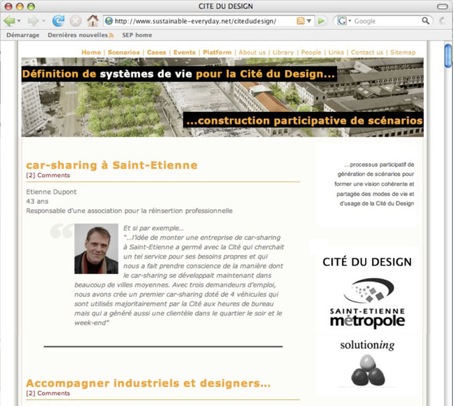 source: http://www.sustainable-everyday.net/citedudesign/
Abstract: The Cité du Design, a new public institution dedicated to research, education and dissemination of design in Saint-Etienne, France initiated a study to define its own organisation as a multi-dimentional public service in a participative way. The innovation process consisted in involving in a story-telling process a large sample of stakeholders related to the future institution (i.e. professional designers, companies, local authorities, citizen of Saint-Étienne, other national/European design related parties…). The corpus of more than 150 stories collected constitutes a 'collective projection' from which specifications and visualisations of the macro-service Cité du Design were developed.
Driver:
Social
Growing awareness of public views and participation for large scaled projects such as Cité du Design. Systems of Living provides an original format enabling participation of large number of very different players to the innovation process.
Design / Art
Based on service design approaches
Obstacle:
Economic / Industrial
Quiet long and time consuming process
Indication:
Change in current innovation patterns
Rather incremental change both the size of the sample of people involved and the nature of the creative inputs based on narrations from the user point of view.
Sector specifics / cultural specifics:
For the moment experimented in local city/territory developement
Source:
Internet