MINILASTEAED. MINI KINDERGARDEN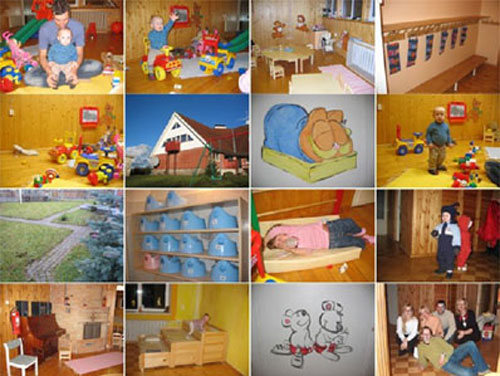 "NUBLU" mini kindergarten and day nusery.
Key Innovation
Nublu is a first case in Estonia where it is done from the private interest and officially.
Problematic background and context
The private "NUBLU" kindergarden is located in Harku district, at Tabasalu, Sarapuu street, 66. The kindergarden is mostly surrounded by private and some flat houses. Tabasalu is a reasonably wealthy suburb just outside of Tallinn with somewhat developed infrastructure; there are food stores, school, kindergarden, family doctor centre, pharmacy, etc. The necessity for a kindergarden appeared due to lack of kindergardens in the area and in general. The queue to kindergarden of Tabasalu is more than 150 children. That means that sometimes people enrol their children already during the pregnancy. The situation with lack of free places in kindergardens and a problem with day nursery needs to be solved and has been picked up as a business opportunity. The idea has developed from a micro kindergarden – many young mothers who are at home with their babies are taking some more children to look after, making out of it an unofficial and unregistered business without any taxes involved.
Solution description
The purpose of the project is to make a pleasant place for children to visit. The project mainly is directed to children who live at Tabasalu and who is beyond the place in state kindergardens. Ele and Raivo were confronted with this problem since they have their own child. So the problem had to be solved. Circumstances turned out to be pretty favorable for starting a business of their own. They found a suitable house, made some necessary renovation and got all required papers for establishing official kindergarden. This kindergarden operates as any other kindergarden – children are playing, studying, eating, sleeping and going for walks, etc. But attitude to children is quite different from a usual kindergarden. If in usual kindergarten the discipline and order are emphasized, so in this kindergarden the most important thing is children's necessities and wishes (if a child wants to be caressed than he gets it). The kindergarden has their own schedule and order too.
Development phase
Diffusion:
On one side it can be called as "high diffusion" since the work is with kindergarten. What is there to be so different? The main difference is that every child is treated as an individual and attitude is different to every child depending on their characters.
Maturity:
The kindergarten is still young and could be related to "initial stage" as nobody from management does not have an appropriate experience. The way how things work is getting clear within the process of work.
Revenue/costs model
The income of the kindergarten comes from the money which parents pay but from that money salaraies to employees, expenses for meals and houskeeping are paid. If a child in a permanent list, than parents pay 25 eek per hour plus 5 eek for every meal.
Social evaluation
Environmental evaluation
Economical evaluation
Authors
Liina-Kai Raivet, Lilian Sokolova, Natalia Kotljarova / Estonian Academy of Arts / Estonia