JOB & ACTION ASSOCIATION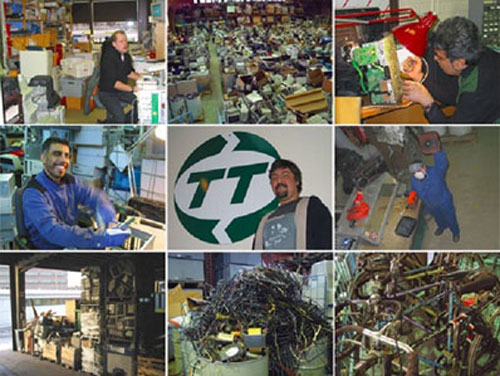 Employment Through Recycling
Key Innovation
Provides work to unemployed, disabled and immigrants by extending the life-time of consumer products, inventing new ways of recycling and improving recycling around Helsinki.
Problematic background and context
The association was founded by a group of unemployed people in Vuosaari, a multicultural area of the city. At the time, unemployment associations were popular because of the economic recession, providing a place for people (mainly men) to do social activities such as fishing. When Honkanen came to the association (97/98), he was hired as their leader and brought recycling in as a profitable activity. In the beginning, household goods were mainly sold at a flea market, and then computers became more of the items being dismantled, reused and recycled. Opportunities with the new WEEE laws coming into effect, and collaborations with the Municipality of Helsinki drove growth of the officially registered association. Companies in Finland must comply with the strict recycling laws, and this solution provides a way for them to recycle at low cost. Consumers also appreciate an outlet for being able to recycle their goods in a culture where environmental friendliness is important. Workers find this a valuable place to work because it pays better than unemployment, provides a place for them to put their skills to work and be active, and the atmosphere is relaxed and 'like a big family'.
Solution description
The main goal of the association is to provide work for unemployed, rehabilitated, immigrant and/or disabled people. The second goal of the two mission, non-profit, "social" firm is to "promote the policy of sustainable development by increasing the life cycle of consumer goods, by finding new ways of recycling, and by boosting the recycling activities in Helsinki area". The association runs a second hand store in which the goods are sold. Other benefits include: employment is able to be kept local, workers have high motivation to work, and immigrants are able to adapt to Finnish working culture. 30% of workers are helped to find work after working here. This innovative solution reduces a large amount of industrial and consumer waste, while working against the high rate of unemployment. It provides household goods to the community, and disadvantaged countries at reasonable prices. In the future, they hope to collaborate more with artists and designers than already done, to reuse the material that is not able to be reused or recycled, such as the glass in monitors that contains lead.
Timeframe
Operates year round. A private limited company (social firm) has recently been founded according to legal social firm regulations and in time, activities will move from the non-profit association to the social firm, but this is still in the planning stages.
Development phase
Diffusion:
Other cases like this can be found in the world, although this example seems to be well organized and appropriate to the culture and society in which it operates. The Job & Action Association cooperates in activities with other Finnish social firms (supported by the national 'Elware' project) and is also part of the European-wide network, RReuse, a network of social firms operating in a similar way.
Maturity:
This solution is in its initial stage because its services have been systemized but not thoroughly tested. Several projects have been developed, mainly through government organizations and the EU, with promising results for further opportunities. However, sufficient data for interpretation and revision of current practices do not seem to be in place (at least from what was shown). Some areas are better developed than others, for example regarding employment, possibly because of government involvement. The association looks forward to having a more efficient recycling system in place upon the enactment of the WEEE laws.
Revenue/costs model
The revenue model for the association is strong -The European Social Fund pays salary for most of the 7 full time administrators -The national flea market org provides salary for one person -The church donated €22 000 last year -Revenue from the second hand store and the recycling fee for individuals and companies -Selling of raw material (like plastic) -In addition, the government provides the Job & Action Association with unemployment funding for the unemployed workers
Social evaluation
On an individual basis, there are numerous benefits clearly shown already for working in this sustainable, enthusiastic place. From the consumer's point of view, there is the benefit of recycling your products, and of buying products at reasonable prices. The benefits of putting immigrants to work (currently 35 nationalities) in society alongside Finns helps create a more multicultural and open-minded atmosphere, and allows them to develop skills and contacts in society not otherwise possible.
Environmental evaluation
The environmental benefits are clear, with the repair/reuse of products extending their lifecycle and material recycling. 25-40 tons of material comes through the operation per month. About 4 tons of computers are received per week from the government alone. Through the burning of plastic that comes from J&A alone, enough energy is created to heat 17 houses in Finland a year.
Economical evaluation
Creation of local jobs (600 since 1999) and new products are obviously good for the economy in Helsinki, thereby improving family economies as well. By training employees with new skills, they are then able to go on to do work in other areas of the city, with 30% getting jobs afterwards. Companies appreciate this service so that they are able to abide by laws regarding business practices, while also lowering costs through reuse of waste.
Authors
Lindsay Kenzig / University of Arts and Design – Helsinki / Finland