EARTHSHIP FIFE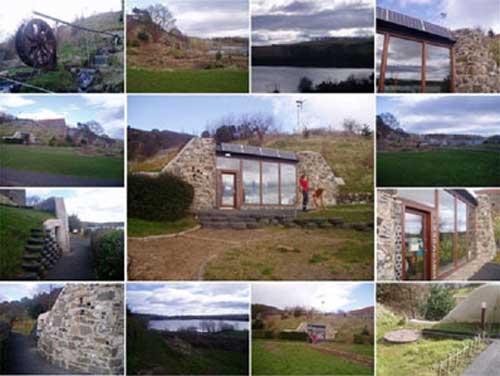 Buildings made from natural and recycled materials and powered by renewable sources.
Key Innovation
An Earthship is a passive solar building with thermal mass. It is made from natural and recycled materials, including earth-rammed tyres and aluminium cans. It is powered by renewable energy, such as wind, water and solar power, catches its own water supply from rainwater, and treats and contains its own sewage in planter beds. It is a concept, not a set design, and can be adapted for any climate worldwide. It offers people the opportunity to build their own homes and make a conscious decision to live lightly on the earth.
Problematic background and context
Kinghorn is a small town with little commerce. The Earthship is located on the edge of Kinghorn Loch, beside Craigencalt Ecology Centre. The construction programme started in July 2002 during an intensive 8-day building programme with American Earthship builders, including Earthship pioneer Michael Reynolds, and 11 trainees from across the UK. Since then, more than 200 volunteers have helped complete the Earthship over weekends and work experience days. The Sustainable Communities Initiative provides work experience opportunities to learn building skills required in Earthship building, including one day volunteer days and working weekends. Volunteers can be involved for a day, or for as long as they wish, however the majority of users are visitors who want to learn how to make their own lives more eco-friendly.
Solution description
The purpose of the Earthship is to inform people of the simple ways in which they can reduce their impact on the environment. The construction of the Earthship (reclaimed tyres filled with compacted earth, with a glazed south-facing wall) allows maximum heat-retention and insulation. This is particularly appropriate for the Scottish climate, the wettest climate in which an earthship has been built. The project is being monitored to assess the feasibility of using reclaimed tyres as a building material the construction of mainstream housing.
Timeframe
Construction began in July 2002, and the earthship opened to the public in August 2004. The initial period of research is for 3 years.
Development phase
The construction phase is complete, but the surrounding land (greenhouses and vegetable patch) are still evolving, and the volunteers are learning more as the seasons change. The project is very flexible however, and is constantly being improved. It is a low-diffusion solution, since only one other such project exists in the UK and as yet they are relatively low-profile.
Revenue/costs model
The project relies on donations of money, labour and materials. A guided tour costs £3, and they also apply for funding from appropriate environmental bodies, a list of which can be found on their website.
Social evaluation
Environmental evaluation
Economical evaluation
Authors
Ian Grout / The Glasgow School of Arts / United Kingdom