ORANSSI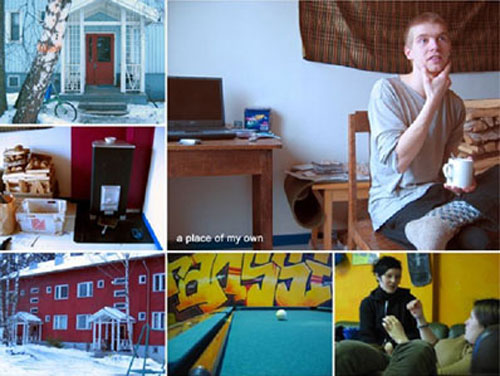 A provider of housing for the young.
Key Innovation
Oranssi ry renovates houses for the young people with the help of the young people themselves.
Problematic background and context
Oranssi emerged in Helsinki during a deep recession about ten years ago. Rents (and deposits) in the city were and remain very high, and there is very little "cheap" housing available. Youth employment was and is also a problem. A group (about 15 to 20 people, all under 20) began squatting activities to protest this situation in 1990, taking over abandoned industrial residential buildings, only to be removed a few days later by the authorities. At last the city began discussion with the group and offered them two empty wooden houses that had been squatted and needed renovating. Restoring costs were too high for the city, but in exchange for cheap rents, the group took over the renovation. A dialogue began whereupon the city offered the group empty residences, and young residents moved in and renovated. Oranssi became well-known in the press, the flats were known to be cheap, and the lifestyle was attractive, so numbers grew from 20 to 600 very quickly.
Solution description
Oranssi flats are as cheap as the cheapest council flats (for which there are long queues), and residents have the opportunity to renovate their flat as they wish and to participate in their house community, which includes socializing alongside the repair and maintenance work. Membership is restricted to those under 24. Members also need to take responsibility for the work involved and to be prepared for a more communal way of living. Whenever a vacancy arises, people can apply for the flat. Residents are chosen by a board after an interview. The original members have become valued experts in traditional wooden house repair techniques, which they pass on to new residents. Unemployed young people can also get temporary work placements with the organization, and young carpenters can do their practical training there.
Timeframe
from 1990 to the present, with no end date in sight
Development phase
Diffusion:
Cases like this may be found in other countries, but Oranssi is unique in Finland. This could be because Helsinki City authorities are more open-minded about this kind of development than other municipalities.
Maturity:
The solution has operated for more than ten years, and is clearly optimised. It is currently in a plateau phase, meaning that the group does not want to grow too large or take on any new houses at the moment. There is, however, a new phase in planning where Oranssi will design and build a new set of houses from the ground up.
Revenue/costs model
The Oranssi association is run by one paid staff member and volunteers and is financed by RAY (gaming association raising funds for social organizations). Oranssi Housing Ltd is a private registered firm that owns all the residential buildings and handles the rent contracts. Residents pay for their own renovations while Oranssi Housing pays for the larger collective renovations and maintenance.
Social evaluation
Young people can afford Oranssi housing and are not therefore threatened with homelessness nor cold council living in an isolated environment. Unemployed young people can get work placement experience on a renovation site and learn valuable skills. Helsinki residents are inspired by the members' active participation in creating their own opportunities.
Environmental evaluation
Direct residents, neighbours, and others learn the value of older buildings, especially wooden houses. The members learn important value judgements on building and lifestyle decisions, such as construction techniques, alternative energy choices, etc. A critical point is that the Oranssi image may be seen as too marginal and "hippie" from the outside, to a more conservative, older viewer, and therefore not valued as highly.
Economical evaluation
The residents learn the direct relationship between cost and value: "the more you do yourself the cheaper your rent." Cheaper rents and employment opportunities mean fewer social security payments. The return on investment is very high, as the buildings gain in value when renovated and maintained at a high standard. The city authorities benefit when they do not have to cover the cost of renovation or demolition. One challenge in future may be to maintain the skills needed in such renovation work. Another may be to attract and retain those with a good head for business.
Authors
No author associated to the case.