ÖKOSAHVER (ECO-PANTRY)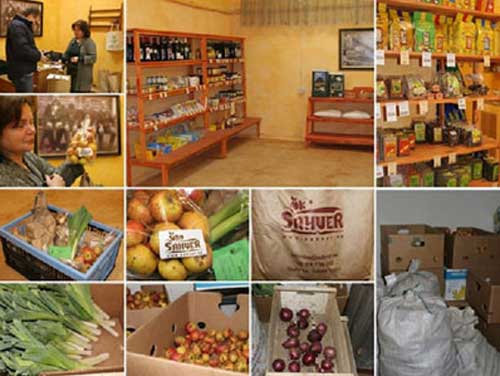 manufacturing and selling the organic agriculture products
Key Innovation
The idea of the movement is to support ecologically pure and healthy lifestyle, which balances human and its surroundings.
Problematic background and context
The organized organic farming movement in Estonia is very young. It started with the establishment of the "Estonian Bio-dynamic Association" already in 1989 (in Soviet time), but the rapid rise began just six years ago 1999. It was due to growing state interest in developing organic farming (including area support for organic farming from year 2000). For now there are almost 800 organic farms (in 1999 the number was 89), but their marketing is rather poorly developed. Organically arable land has increased ten times in last six years. The most common marketing channels are direct sales from the farms, but a relatively high proportion of the organic products are not sold as organic or they are sold without an organic label (even when the farm is certified and has the right to use a label). Ökosahver is the first company in Estonia, which started in 2003 to retail and whole-sale the controlled organic products. Most of the organic farms are concentrated in South-East Estonia, West-Estonia and on the islands. These areas have traditionally had extensive agriculture due to natural conditions, and therefore the conversions to organic farming has been relatively easy. Even when the distances in Estonia are small the location of Tallinn on the north coast, where lives 1/3 of population of the country, offers a better possibilities to farmers in West-Estonia than South-East.
Solution description
Behind the idea are different people: professor from Institute of Plant Protection, director of Centre for Ecological Engineering, businessman and a leader of the alternative theatre Von Krahl. Their initiative started from the interest to consume natural food themselves and for this purpose to organize a well-managed system of selling controlled organic food. Most popular product food-box contains 10 different types of food items (mainly vegetables, but also honey, bread and herbs) for every week. Foodbox satisfies a basic weekly need of an avarage family (4 person) and it can be ordered by phone or through internet once in a week. Products come mostly from local organic agriculture farms. Frequenters always get the information about the content of a foodbox by e-mail. The same information is also offered in Ökosahver homepage. Depending on livingdistrict the food-box is brought home on wednesday or thursday. For now the service is obtained in two main cities of Estonia – Tallinn and Tartu. Tallinn store is functioning also as a shop.
Timeframe
The service has been obtained since January 2003
Development phase
Diffusion:
Comparing the other European countries the organic foodbox-service is quite new idea in Estonia. Ökosahver is at the moment the only this kind of action in all Baltic states.
Maturity:
In the opinion of organizers the solution is at the initial stage. Although they have a well-managing service system for consumers, the present supply and range of products does not meet the consumer needs. As the climatic situation in Estonia doesn't support growing fresh vegetables all year round the possible expansion of the idea would be canned food. But presently the small companies are not able to do that. Processed food would be the way to enlarge the assortment.
Revenue/costs model
Ordering the foodbox to home costs 13 Euros. In Tallinn it is also possible to buy it from store, then it costs few Euros less. Organic food products are more expensive than the usual ones we find from regular grocery stores. The price difference is approximately 20%. All the expenses (storage, transport, office, salaries etc.) are covered from rake-off.
Social evaluation
Organic agriculture takes more physical work and mechanization is not an option – it provides work for people who otherwise would be unemployed. And so keeps small farms alive and sustains life in countryside. Also the informing of people about the benefits of ecological food and lifestyle in bigger picture.
Environmental evaluation
Organic agriculture doesn´t use chemical fertilizers, pesticides, herbacides therefore it does not tire out environment. Methods are taken to keep the natural balance and diversity of nature. By marketing products in nearby areas we spare resources on transport.
Economical evaluation
Growing organic food is economically responsible due to smaller farms and countryside in context of Estonia and its characteristics.
Authors
Eelike Virve, Ülle Jehe / Estonian Academy of Arts / Estonia