CAFEZOÏDE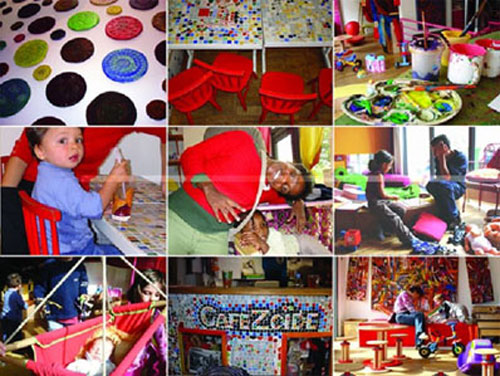 Creating a community-space for children, where café and playground are combined.
Key Innovation
Café Zoïde is a combination of a neighboorhood workshop and a café,independant of a school system and at the same time providing an educative but free surrounding for children
Problematic background and context
A group of people decided to create a warm place to go in the winter, where young people can meet and play. They also formed an artists studio where they exibit and promote young peoples work and a place where families can meet and interact. The idea to build a café focussing on a specific target audience, in this case- children, is an easy and positive thing to reproduce. All it needs is a well-functioning team of people that concentrate on the specific needs of each customer and care. Also, it is not to be forgotten, that giving children of all ages a place to go where they can play, learn and grow as individuals is always a positive idea and would benefit any communtiy.
Solution description
The functions of Café Zoïde are to: -offer a playground for families -offer art courses and create exhibitions -help foreign parents and children -run a café for people based on exchange and participation -offer a center of documentation, information and resources -provide a good influence on the neighborhood (dynamic, conviviality)
Timeframe
7 years
Development phase
Diffusion:
starting as a unique café in Paris, Café Zoide is now developing a concept in order to reproduce their system in other city neighboorhood
Maturity:
The project of Café Zoide is well developed, but does need a new image and identity, meaning a new way of promoting the essential base of the project
Social evaluation
Café Zoïde is an association that makes room for children to develop into individuals in a very open-minded and unconventional way. They treat children as people and help them to find a way to communicate with adults and children of any age and cultural background in their own way. It is now an essential meeting point for families from the neighborhood, deeply involved in the everyday life of the community.
Environmental evaluation
Even though there are no obvious benefits to the environment, the people and children of Café Zoïde try to contribute in saving our planet. They try to use biodegradable materials for their various projects, they consume fair-trade products, taking care of the green area of Paris and their immediate surround-ings and, in particular, trying to instill a value of the environment in the children.
Economical evaluation
The town-hall of the 19th arrondissement makes an essential contribution to Café Zoïde by supporting Annemarie in this project financially and by donating space. Still, the Café Zoïde-team hopes to be independant soon in order to be free of conventional bureaucratic rules. They occasionally get donations (i.e. computers). Being independant without diminishing the positive image of the association is very important to all involved. They do not want to turn this project into a business for fear of losing the spirit of a community-project.
Authors
Patricia Zapfl / ENSCI Les Ateliers / France