"EXCHANGE CORNER" IN RADIO KRAKOW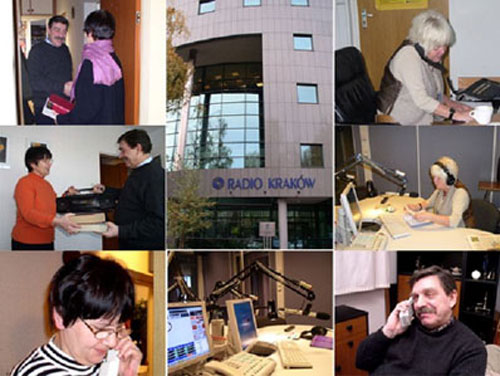 Radio program that enables to exchange used things between the listeners.
Key Innovation
"Exchange corner" is a radio program that enables to get rid of used or unneeded stuff or to exchange them to the things or services one needs.
Problematic background and context
For 15 years now there has been an exchange programme at Radio Krakow. Cracow's society is quite unique and traditional, and its residents attach a great deal of importance to tradition and history. Thus many things are highly important for them. This intitative was begun by Ms Krystyna Wójcik, who observed the need amidst the less wealthy members of the society for a small exchange trade. This idea from an economic perspective is very lucrative, as by eliminating money poorer people can acquire necessary and often expensive equipment. This initiative met with great approval, and turned out to be quite useful for the majority of the local residents. Everyone can get rid of unnecessary items to mutual satisfaction, and in doing so make new friendships.
Solution description
The aim of the "exchange office" initiative is an easy exchange of unnecessary things through the radio, simultaneously providing the chance to get something that is needed, perhaps even something unique. Service exchange is also an essential aspect, including: home painting, tutoring, or building assistance in exchange for an old washing machine, piano, or food. The "exchange" works by having a few radio broadcasts in which Ms Wójcik gives information concerning new offers or requests for specific items or services, which are given directly to the host by telephone or e-mail. An essential innovation to this initiative is the elimination of money from all transactions, giving all those who lack money the opportunity to participate. The radio does not accompany the exchange itself, it only serves for contact and transmitting information to all those interested, giving new contacts to the (often lonely) participants.
Timeframe
from 1990, every Saturday from 10 a.m. to 12 p.m.
Development phase
Diffusion:
There are very many ideas in the world for the exchange of used objects, but none are assisted by the local radio, and none eliminate money, relying exclusively on an honest, often symbolic exchange. The many years of operation and the number of exchanges testifies to the huge popularity of this sort of undertaking, and to what degree it has been accepted and enjoys popularity.
Maturity:
The "Exchange Office," after 15 years in operation, is at an advanced stage of development after many incarnations and organisational changes. There remains however the possibility for development and evolution into even better solutions without becoming commercialised, and remaining an intimate and well-operating initiative. This solution is mature, both in terms of its long period of existence and social and individual benefits.
Revenue/costs model
The exchanges are carried without the use of money, and the one paid person is Ms Wójcik, as worker of Radio Kraków (editor) and wage-earner. The possible costs associated with exchanges are: transport or telephone bills, paid by the interested parties, while the radio, as solely a go-between in the exchange, does not monitor them.
Social evaluation
In an urban society and large populations the idea of exchange via local radio is easy, rational and practical. The exchange idea gives a chance especially for sick and bedridden people for whom listening to the radio is the only way to receive information and the same the information about the items to exchange, and only through the telephone can they acquire and require often essential objects.
Environmental evaluation
The idea of the exchange radio programme gives a second life to unused objects which might be used by someone else. The project is ecological, social and anti-consumption, in accordance with the idea of sustainability.
Economical evaluation
From a financial and economic perspective, this activity has no peers, as it requires no financing or sponsorship, yet facilitates honest exchanges. The cashless nature of the transactions is also, from a financial perspective, an interesting departure from an alternative money system. The greatest advantage is to be gained by the less wealthy residents of our city, but also for many-child families and the disabled. We can establish this from the great number of requests for cribs, orthopedic equipment and wheelchairs for children.
Authors
Dominika Konieczkowska, Magdalena Misaczek / Academy of Arts in Cracov / Poland