Civil servants collaborating with citizens
Back from the 4th Informed Cities Forum in Rotterdam
"…we are 'free range civil servants'…" says Anne de Feijter from the city of Amersfoort. "…I consider myself a 'street soldier'…" adds Niels Hoogwerf from the city of Rotterdam. What both mean with these statements is that they do their job outside, on the ground, in the city, close to citizens rather than remaning at their desks. They are civil servants somewhat different from what you may expect from traditional municipal administrations doing their best to collaborate with citizens.
How do you encourage change of cities' administrations and emergence of these new types of civil servants? turned to be the core question triggered by the field workshop: Do It Yourself, Together! Transforming the Rotterdam West district organized within the 4th Informed Cities Forum hosted by the city of Rotterdam this end of March and titled: Which way to the future? Strategies, tools and inspirations for transforming cities.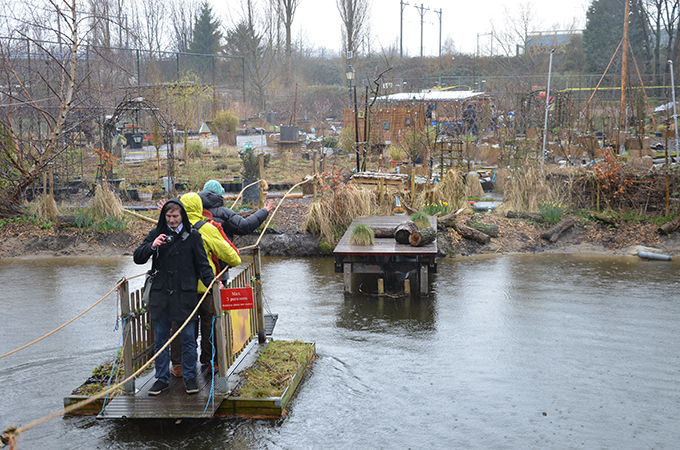 Field workshop in March in the Netherland is a risky business: after cycling under the rain to visit a community garden in the outskirt of Rotterdam, the little group of civil servants, researchers, non-for-profit and elected representatives from all over Europe reached (pretty wet) the Impact Hub of the West district first for a cup of warm tea and second for an hour long workshop SDS had the pleasure to moderate.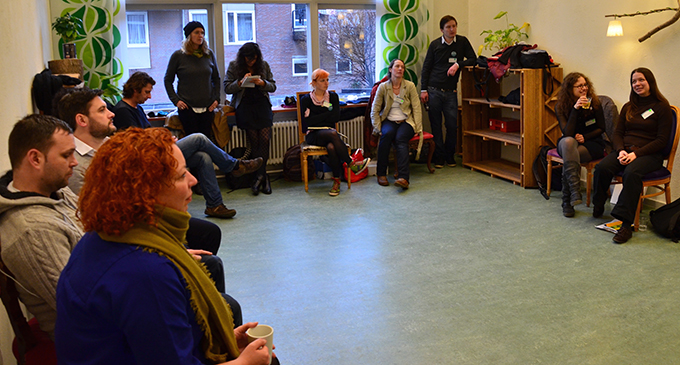 Conversation was kicked off through what we call now a 'living exhibition': a presentation printed on panels is distributed to the participants. They hold the panels and 'are' the exhibition, they exchange about the examples of good practices from cities, comment quotes from citizens, civil servants and city leaders. The 'living exhibition' started with cases from Amersfoort in the Netherlands, Gdansk in Poland and other cities we investigate within the URBACT capitalization process Social Innovation in Cities. The concept was launched at the URBACT Sharing event in October 2014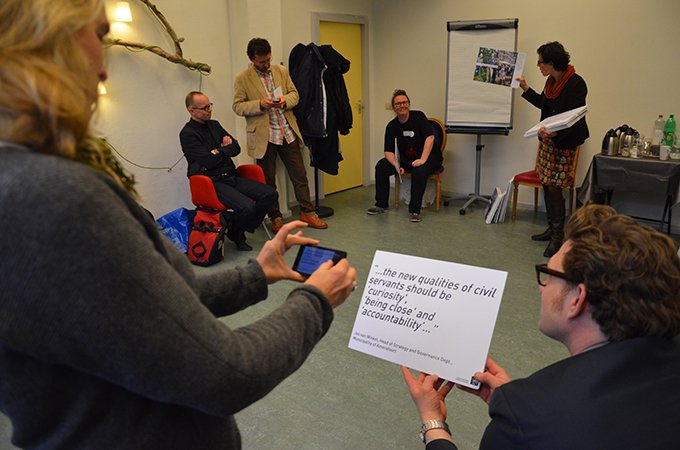 These cities, and Rotterdam of course, are engaged in different process to change their city administration from command and control to explore ways to better collaborate with citizens. For that they tend to let go and to reduce administration and rules. They trust citizens and let them take action. It requires city leaders to really try, to take risks and to experiment with innovative solutions to reach co-responsibility of all stakeholders involved and a form of collective leadership in the city.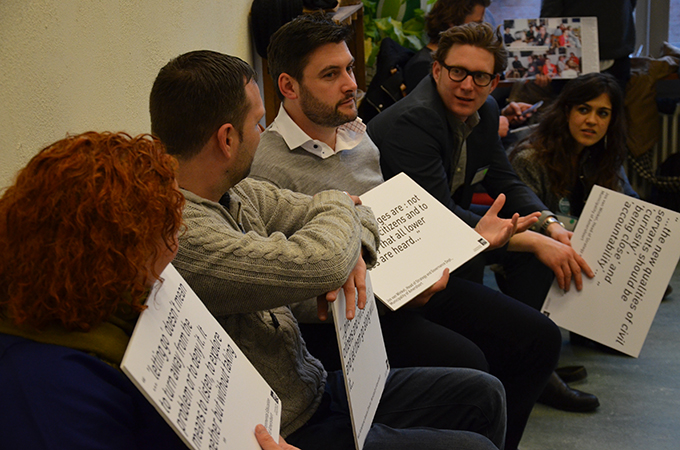 The workshop participants discussed what you do as a civil servant to work in such a different and innovative way, and interesting inputs emerged:
Dream big and act small
The lessons from the transition management encourage to both start with low hanging fruits but still keep the ambition high.
Take risks
Being a civil servant is in a way a more comfortable posture to take risk. Shane Waring from the Dublin City Council and civil servants taking part to the workshop agreed on the idea that taking reasonable risks in their job could hardly lead to a real personal risk to get an official warning.
Take part as a citizen
Niels Hoogwerf is 'area networker' for Rotterdam West district which means that he is making the link between the citizens of the area and the city administration. He said: "you shouldn't only ask for participation and effort to the citizens, you should take part with them. In a neighborhood's meeting for the citizens I am Niels for them before being a civil servant" 
Be yourself
Joke Quintens, Deputy Mayor from the city of Genk said: "it's not because I have been Deputy Mayor for two years that I stop to be a citizen. We should refrain from opposing too much elected representatives, civil servants and citizens". And Niels added: "I used to have a professional and a personal mobile phone. Now I have only one because I don't want to divide my life in two…"
Build a vision
The Mayor of Gdansk engaged change in his city administration in co-creating a vision for 2030 with citizens, civil servants and elected members. An ambitious vision is key for Anne de Feijter, Adviser in Sustainable Communication in the city of Amersfoort: "civil servants in Amersfoort can re-assess their work against the new vision of the city administration of the 3 main qualities of a civil servant: curiosity, being close and accountability".

Baby steps 
"When your colleagues are not in the same mood, you may try and help them to do their job, said Niels Hoogwerf. You need to take 'baby steps' towards working in the new posture of the city administration"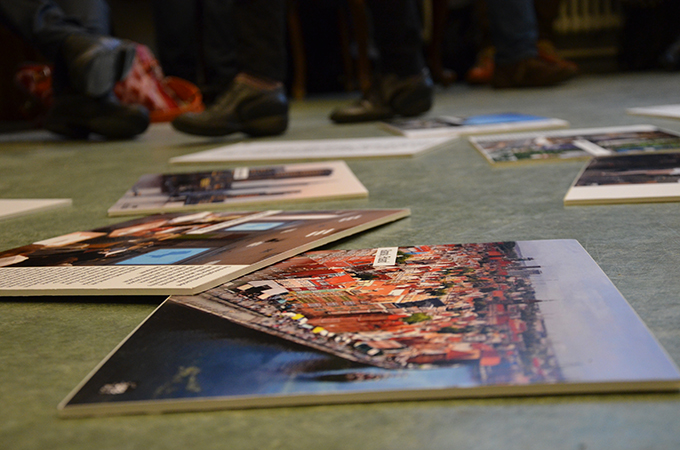 Outside the weather was still dark but the rain had stopped. With good and mind-shaking thoughts in their heads, participants rode back their bicycle to the main conference hall and the next steps of the Which way to the future ?