We successfully carried out our chat sessions in September and October!
Around 30 experts and urban practitioners have met in September and October in order to exchange on experience they have faced or observed for the promotion of social innovation in cities. Through five online chat sessions, we have shared on levers and hurdles, internal and external obstacles, as well as solutions observed, on the basis of concrete examples.
Do let us know if you have any information to share with us on these topics and wish to be kept informed on the results of the chat sessions and the project in general!
marcelline@strategicdesignscenarios.net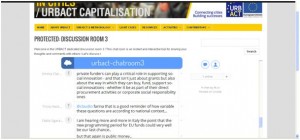 Chat session 1:  How do new leadership approaches and work culture promote social innovation within cities?
23/09/2014
Social innovation has been used increasingly by some cities : they stimulate, facilitate, initiate and sustain its use in order to tackle wicked issues, unsolved through traditional market and public approaches.
In a first part, we have covered the following issues:
Concrete examples of social innovation, results and role of the local authority
The need to adopt changes to use social innovation
Drivers influencing the adoption of these changes
Key lessons learnt.
The second part has focused on  "New City Leadership"
Note: the notion of 'city leadership' doesn't necessarily refer to the level of decision makers but to the global capability of the city to lead changes and developments in the field of social innovation. The definition of leadership in Wikipedia hereafter can help focusing this notion here: leadership has been described as "a process of social influence in which one person can enlist the aid and support of others in the accomplishment of a common task". For example, some understand a leader simply as somebody whom people follow, or as somebody who guides or directs others, while others define leadership as "organizing a group of people to achieve a common goal".
We have addressed questions related to the following points:
Local authority leadership role: origin of this leadership
Focus on top-down leadership
Role that can be played by URBACT
The following people took part in the chat:
Fernando Barreiro Cavestany, USER URBACT project lead expert
Stéphane Vincent, La Region 27
Furio Honsell, City Mayor of Udine (IT)
Miguel Correira de Brito, USER URBACT partner – Lisbon
Anne De Feijter,  City of Amersfoort
Magnus Johansson, Urban Studies department, Malmö University
Bjarne Stenquist, R&D and social sustainability unit City office, City of Malmö
The session was moderated by Per-Anders Hillgren (Forum for Social Innovation Sweden, Malmö University).
Chat session 2: How can cities promote social innovation through brokerage role have cities and capacity-building activities?
30/09/2014
In the first part of the chat we focused on two general questions:
General trends and the experiences of the participants in recent developments in this area. How have local governments worked together with local stakeholders and citizens in a more co-productive/collaborative way?
How can new leadership approaches and work culture embrace social innovation within cities?
After this, the session focused on two specific topics:
City brokerage role (Which results can be achieved by playing a more connecting, brokerage role, working together with other local stakeholders and citizens? What are the obstacles and barriers in this? Etc.)
Capacity building (How can a local government get trained or get experienced otherwise? Who needs to be trained? Etc.)
The following people took part in the chat:
Mireia Sanabria, 4D Cities URBACT project lead expert
Steve Marriott, Expert in sustainable cities
Lia Bouma, City of Amersfoort
Thijs van Exel, Kennisland
Per-Anders Hillgren, Forum for Social Innovation Sweden, Malmö University
The session was moderated by Anne De Feijter (City of Amersfoort).
Chat session 3: What city platforms best support social innovation (physical, online spaces, etc)?
29/09/2014
This sessions have sought to answer questions related to:
The need to set up specific platforms for the development of social innovation in cities
The role of physical space for the development of social innovation
The potential weight of technologies and social media in supporting social innovation in cities
Other forms to foster interaction, promotion and use of social innovation be observed
The following people took part in the chat:
Emma Clarence, Principle Researcher on Social Innovation, Nesta and friend of URBACT
Louise Pulford, Director of SIX, Social Innovation Exchange
Fabrizio Montanari, Prof. of Creative Industries and Territorial Development, University of Modena and Reggio Emilia
Claudio Farina, Member Impact Hub Trieste and involved in several projects involving the Municipality and the Region on Urban Regeneration through Social Innovation
Matteo Bina, Manager Social Incubation Process at FabriQ, the Incubator of Social Innovation of the Municipality of Milan
Chris Sigaloff, Kennisland.
The session was moderated by Fabio Sgaragli (Fondazione Giacomo Brodolini).
Chat session 4: What are the usual obstacles/difficulties when applying social innovation and how city authorities overcome them?
30/09/2014
This sessions sought to answer to questions related to:
Obstacles and difficulties

Main obstacles cities faced when seeking to apply social innovation (Financial, legal, related cultural or political, lack of skills and/ or capacity within the city authority)
Resistance to social innovation and effective ways of dealing with this
Promotion of social innovation when budgets are being cut
City responses

Most important responses to addressing legal, financial, cultural and political barriers?
Capacity-building of key stakeholders (within and beyond the public sector)
The following people took part in the chat:
Nicola Bacon,  Founding Director, Social Life
Gorka Espiau, Director of Innovation of Cities and Regions, The Young Foundation
Robiin Murray, Industrial and environmental economist, co-author of  the Open Book of  Social Innovation
Rachel Schon, Lead Researcher on TEPSIE, The Young Foundation
So Jung Rim, Associate, SIX; Associate, Social Life
George Keranis, External Consultant, Athens Development and Destination Management Agency
Fabrizio Barbiero, Manager Municipality of Turing in charge of Torino Social Innovation
The session was moderated by Tricia Hackett (The Young Foundation).
Chat session 5: How can cities support the diffusion and scaling of social innovation?
3/10/2014
In the first part of the chat session we have talked about upscaling and diffusion in a more general sense and discuss :
what we understand by the term 'scaling up' in relation to social innovation
what the most important issues in terms of up scaling practices are, including the main barriers
failed attempts of up-scaling with the key lessons learned
how governance (the specific style or culture of governance) be a lever or hurdle to up-scaling social innovation.
After this, we moved on to discussing issues related to the diffusion of social innovation between and across cities:
we looked at scaling-up of social innovation through cross-sectorial diffusion
how cities can facilitate diffusion and up-scaling
to what extent cities can start their own process in getting inspired by or copying existing models
how different cities can learn from one another (poor and rich, big and small, Eastern, Western, Southern and Northern, etc.).
The following people took part in the chat:
Eivind Sto, SIFO, National Institute for Consumer Research (NO)
Judit Molnár, Ecotrend Association, Élő Szövet Alapítvány (Living Web Foundation) (RO)
Matthew Horne, Innovation Unit (UK)
Róbert Bíró, Pogány-Havas Microregion, Pagan Snow Cap Association (RO)
Tracey Wheatley, Transition Wekerle (transition town initiative in Budapest) (HU)
The session was moderated by Edina Vadovics (GreenDependent Institute, Hungary) and Matt Gott (Innovation Unit, UK).