PARK AT MY HOUSE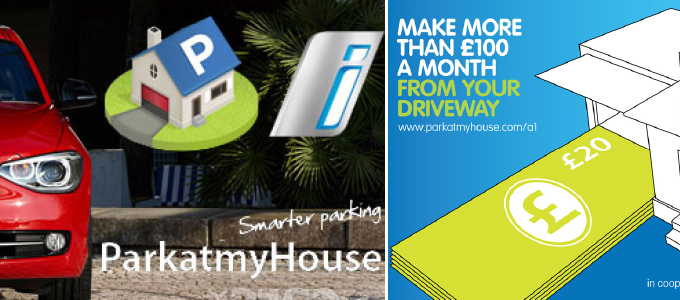 How to facilitate access to individual parking spaces while sharing collaboratively underutilized spaces?
---
Comment faciliter l'accès à des espaces de parkings individuels tout en  partageant dans un mode collaboratif des espaces sous-utilisés?
ParkatmyHouse est une solution qui vise à proposer des places de parking alternatives, proches et moins chers, tout en permettant aux propriétaires de ces espaces de gagner de l'argent et utilisant au maximum leur espace.
L'idée s'inscrit dans le contexte de la crise financière. Pour de nombreux ménages, gagner 50 euros additionnels par semaine peut faire la différence. Avec les prix de l'essence en constante augmentation, les couts globaux liés à l'utilisation de la voiture ne cessent d'augmenter. Parkatmyhouse en proposant des places de parkings moins chères et plus proches que les parkings traditionnels s'inscrit dans ces enjeux.
Au niveau environnemental, l'application mobile permet de savoir automatiquement où se situe la place libre et permet d'éviter les kilomètres supplémentaires réalisés à tourner autour du quartier pour trouver un emplacement libre. Les places de parkings mises à disposition près des points de transports en commun s'inscrivent également dans une logique de mobilité multimodale intégrée, où une première partie du trajet est réalisée en voiture, le reste en transport en commun (bus, métro..). L'utilisation efficiente des places de parkings non utilisées permet également d'éviter la construction additionnelle de parkings, en concurrence avec d'autres utilisations plus écologiques de l'espace disponible.
---
Parkatmyhouse the platform