Sustainable canteen programme
May 28, 2013
Contributor: Brussels Environment
Workshop:
Governance, synergies and local systems / Canteens 
Social inclusion, job creation, economics  / Eating more sustainably within a limited budget
Supporting institutional kitchens in a shift towards sustainable food in the Brussels-Capital Region.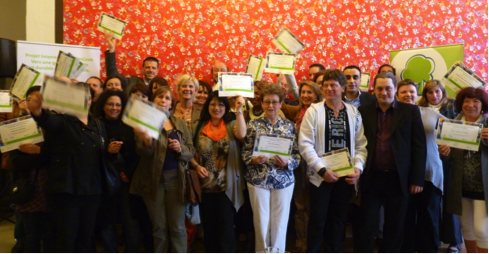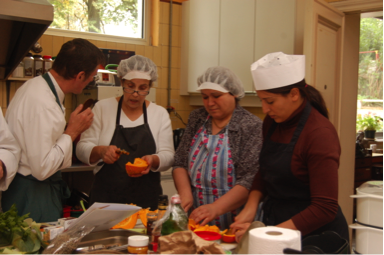 WHY Focus on INSTITUTIONAL KITCHENS?
270,000 – that's how many meals prepared in institutional kitchens in the Brussels-Capital Region are eaten every day. It's no small number, and represents a definite environmental impact. Yet institutional kitchens can potentially be used to raise the awareness of a large group of users about the theme of sustainable food. It is with this in mind that, since 2008, sustainable food in institutional settings has been one of Brussels Environment's priorities.
The various pilot projects already run by Brussels Environment have targeted kitchens at institutions, companies, schools, and care and other establishments, whether run in-house or by catering companies.
ENCOURAGING DEMAND IN INSTITUTIONAL Restaurants
2.1. SOME INNOVATIVE projeCts
1) Individual support for institutional kitchens
In order to obtain more concrete and lasting results, in 2011-2012  twenty kitchens received individual, adapted support.
Following the partnership with the European GreenCook project, food wastage has been a subject of particular attention. The GreenCook project is an international partnership under the Interreg programme whose aim is to combat food wastage.
Some results of the support programme (20 kitchens)[1]
Before

After

Difference in %

Seasonal produce

33.2% per meal[2]

48.8% per meal[3]

+15.60%

Meat portions:- schools- rest homes

– canteens for adults

– youth hostels

115.3g/meal

122g/meal

149.5g/meal

140g/meal

92g/meal

104g/meal

142g/meal

120g/meal

-20.21%

-14.75%

-5.02%

-14.29%

Vegetarian meals

4 kitchens

1,305 meals

15 kitchens

5,599 meals

+429%

Organic products

7 kitchens

organic food = average 16% of total purchase price

15 kitchens

organic food = average 15.6% of total purchase price

+208.93%

Food wastage[4]

136.6g/meal

107g/meal

-21.67%
Since the launch of the Sustainable Canteens programme in 2008, a total of ninety-three institutions have registered for the support cycles, representing 69,085 meals per day. Fifty-nine institutions have completed the guidance process and taken one or more actions in favour of more sustainable food. This represents 50,083 meals per day or 18.49% of the meals eaten every day in the Brussels-Capital Region.
2) Raising the awareness of future catering professionals
In 2011, Brussels Environment also supported a project by CIRIHA (the Centre for Information and Research relating to Intolerances and Food Hygiene) for the introduction of sustainable food into the curriculum of two classes at hotel management school and one class in the dietetics department.
3) Pilot projects with catering companies
Also in 2011, Brussels Environment devised a pilot project with the company Sodexo to calculate the impact of their menus on the environment and to adapt the menus accordingly.
In parallel, a pilot project was carried out in collaboration with the catering company TCO Service to measure food wastage in the municipal schools of Watermael-Boitsfort.
2.2. A SUPPORT SYSTEM
1) Training courses
In 2008, Brussels Environment launched a first cycle of training courses for institutional kitchens, which was repeated in 2009-2010. During these first two cycles, the practical and thematic training courses were open to anyone – both kitchen staff and anyone else who was interested in the project within the institutions receiving support. Since the third cycle, the practical training courses have been reserved for kitchen staff in order to ensure that participants' knowledge and practices are at a more consistent level.
Several themes have been dealt with during the training courses, including cutting down on meat, vegetarian meals, seasonal produce, organic produce and food wastage.
At the same time, the thematic training courses were open to anyone involved in the running of the canteen or in the Sustainable Canteens programme: kitchen stewards, cooks, environmental coordinators, managers, teachers, etc., whatever their knowledge of sustainable food. The content of these courses was thus more general in nature, covering areas such as communication with the customers, food wastage, sourcing, the integration of sustainable food criteria in tendering processes, and so on.
At the end of the third cycle, a certificate was issued to the participating institutions and companies that had attended the training regularly. The prospect of obtaining the certificate seems to have encouraged more active participation, a critical point during previous cycles.
2) Communication tools and equipment
Since the start of the project in 2008, various tools have been devised to help institutional kitchens manage the transition to more sustainable food. Here are some examples:
a seasonal calendar,
a tool to calculate the sustainability of menus served in institutional restaurants,
education packs for schools,
a practical guide including recipes and examples of good practices,
information sheets
etc.
In addition to these tools, Brussels Environment has also developed communication equipment for institutional kitchens.
3) A help desk
In parallel with the training courses, a help desk has been opened for all institutional kitchens in the Brussels-Capital Region to answer practical questions about the integration of sustainable food in institutional kitchens. This service is available every working day between 9 am and 4 pm, and may be contacted by phone or email.
In addition to the sustainable canteens help desk, an additional one for sustainable specifications has been set up to handle any questions of a legal or practical nature relating to the inclusion of ecological criteria in tendering specifications for catering services.
ON the SUPPLY SIDE
in 2008, Brussels Environment supported a supplier to institutional kitchens with the delivery of regional produce in the Brussels-Capital Region, and commissioned Bioforum Wallonia to create a database of suppliers to institutional kitchens. In 2010, a search tool was also introduced.
Since 2010, the Your Choice fair has offered institutional kitchens the possibility of meeting suppliers of sustainable products and discovering the great diversity of organic, fair trade and local products. Brussels Environment has supported this event since its first year. Each annual fair attracts around a hundred visitors and fifty suppliers, and workshops to discuss and exchange views on sustainable food.
The supply of sustainable products for institutional kitchens needs to be extended. Environment Brussels wishes to devise projects to make this possible, and is looking at how the suppliers can be reached.
Recognition system for canteens: useful? Requested by canteens and consumers?
Cost of our tools (support, training, tools): how can it be reduced without losing momentum?
---