Cookery Courses – good & cheap
May 28, 2013
Contributor: Vienna
Workshop:
Governance, synergies and local systems /  Final consumers: General Public
Social inclusion, job creation, economics  /  Eating more sustainably within a limited budget
Resource efficiency – CO2 reduction /  What food purchasing criteria to effectively lessen footprint?  What key behavioural changes to promote to effectively lessen footprint?

People in need learn to cook fresh meals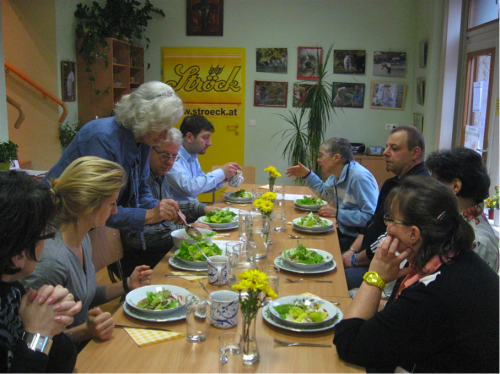 This pilot-project aimed at the empowerment of people to nourish themselves more healthy and cheaper. Many people in cities eat a lot of convenience or junk food and don´t have the competence to cook for a balanced diet. Clients of the social organization "Volkshilfe Wien" have to spend their life on a very small budget, often they have a migration background. "die Umweltberatung", a
It was possible to impart knowledge to the people attending the workshops.
The benefits are: awareness of the importance of conscious buying and healthy eating, the participants of the workshops want to change their behaviour. The problem is that it is a big effort to reach only a few people.
Lessons learned: It was difficult to convince the participants to attend every workshop of the series. That had to be promised some goodies to attend each day of the course. Such a project is a challenge as regards content as well as communication.
 Are there similar projects in other cities? Do you have experience with the training of people as multiplicators?