Gothenburg transnational "Enjoying" workshop programme & presentations
Tuesday 28th May 2013 "Canteens & Restaurants"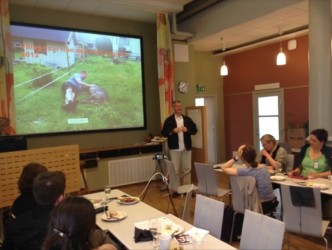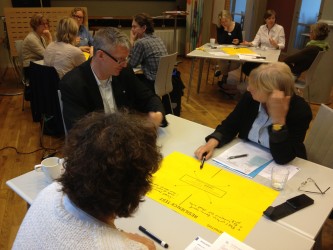 Welcome by Lead Partner
 Keynote speakers on Enjoyng from the host city
Vienna & Partner contributions
Key partners canteen cases 5 minutes each
Resilience test contributions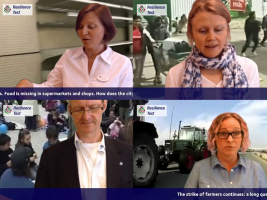 Site visits
Canteen Elias Kitchen for the elderly, at Lundby
Johan Fogler introduces the work which increased the organic food stuff in the local administration at Lundby
Even Bakke shares his point of view as an innovative chef in canteens for schoolchildren (silver medal at olympics)
Speed Presentation Evening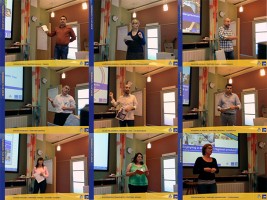 Presentations:
Kia Andreasson Vice Mayor, Sustainable Meals in Gothenburg, from Gothenburg
Kristina Magnusson, Gothenburg Meals, from Gothenburg
Niklas Wennberg,  Stadsjord – Urban Farm, from Gothenburg
Rebecca Palosaari Fogler, Consumer Guidance Office (sustainable consumption / focus on food), from Gothenburg
Ingrid Bohlin, Environmental diploma, from Gothenburg
Jenny Lagergren Sustainable Manager, Way Cup – Sustainable café, from Gothenburg
David Brasfield, Compass & Co. , from Oslo
Steven Marriott, Bristol's public sector food initiative, from Bristol
Daphne Bartels, Streekmenu, from Amersfoort
Uxìo Novo, Seling at the market, from Ourense
Stefan Dudau, Tinaru, from Vaslui
Giuseppe La Malfa, Slowfood, from Messina
Joséphine Henrion, Rencontre des Continents, from Brussels environment
Ulrike Stocker, Cookery Courses, from Vienna
Konstantina Tsamourtzi, from Athens
Lilian Pellegrino, Les Bouchons, from Lyon
Wednesday 29th May 2013  "Consumer behaviour & low income households" (including education for adults & youngsters)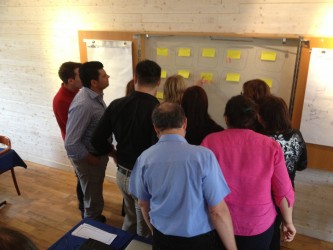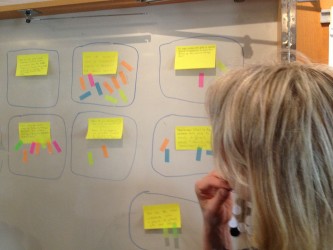 Enjoying workshop contributions
at Lärjeåns trädgårdar (Larjeans gardens)
1. Governance, synergies and local systems
– Canteens
– Restaurants
– Final consumers : General Public
-Final consumers : Low-income households & multi-ethnic communities
-Final consumers : Youngsters
2. Social Inclusion, job creation and economics
-State of art
-Eating more sustainably within a limited budget
– Involving various population groups in sustainable food transition
– Impacts on jobs and local economy of a shift in food demand
3. Resource efficiency and CO2 reduction
– Assessing the footprint of a meal/urban food demand
– What food purchasing criteria to effectively lessen footprint?
– What key behavioural changes to promote to effectively lessen footprint?
Site visits

Lunch at Larjean Gardens in economically deprived area with food recovered from Supermarkets (redistributed), presentation about a cooperation with the Way out
Minister Henrik Thörnqvist, at Bergsjöns Församling (a parish)
Visit  at Galaxen (Erne Alman) / Galaxen is a non- profit association that conducts a city farm and café with open and free activity  www.foreningengalaxen.se
Micro-consulting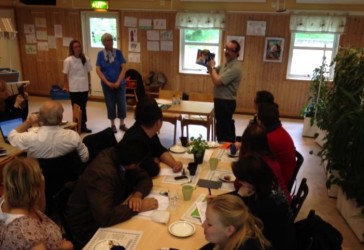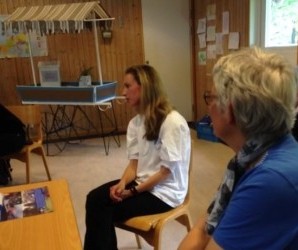 Micro-consulting at Galaxen (Erne Alman)
Galaxen is a non- profit association that conducts a city farm and café with open and free activity  www.foreningengalaxen.se
Micro-consulting Cases presented by Partners ( 6,6 MB)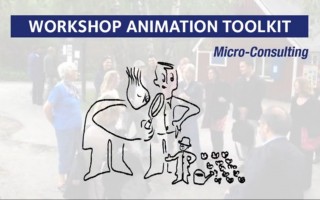 Thursday 30 May 2013 "Wrap-up & Next steps"
What's next for 3 subgroups Delivering & Enjoying & Growing