The Severn Project
14th August, 2013
Contributor: Bristol
The therapeutic value of horticulture: pathway to employment opportunities from former drug and alcohol addiction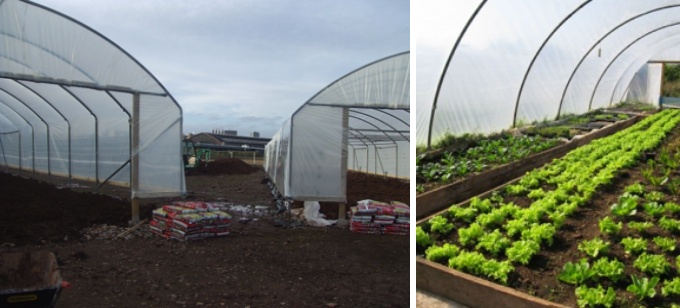 The Severn Project is a Community Interest Company (07253111) founded by Steve Glover in April 2010 with the aim of creating a more effective and person centered model of drug and alcohol recovery.
The Project is designed to bridge the gap between treatment and social reintegration though a process of education, training and employment.
Beginning as a pilot on 4 acres of waste ground in Keynsham, just outside Bristol Steve and his clients set about clearing the land helped by local volunteers. What was once waste ground is now a thriving horticultural social enterprise producing a variety of fruit and vegetables alongside a brood of free range hens.
The 2nd site was developed on Bristol City Council horticultural land at Whitchurch in south Bristol where there are ambitions to build and run a farm shop and café.
The 3rd site is located on a former diesel depot next to Temple Meads train station. This development land has been remediated to permissible construction site quality but remains too contaminated for direct food growing, so membranes are used to protect the crops that are grown in several enormous polytunnels.
The Severn Project supports socially excluded individuals – particularly those who are struggling or have struggled with the effects of substance misuse, ex offenders and those with low level mental health disorders.
The emphasis is to support the self efficacy and autonomy of the individual, empowering o associates through work based training, education, support, accommodation, employment and social integration. The organic market garden specialises in growing salads and is at the beginning of a box scheme.
Practical qualifications (NVQs) are running in horticulture and conservation, (construction, enterprise, catering and woodland management starting shortly) with partner organisations City of Bristol College and Next Step. Members of the Wholesome Food Association, the CIC association, and the Federation of City Farms and Community Gardens, the Severn Project is accredited by Social Enterprise Mark and the Wholesome Food Association.
This is an ambitious and successful project, supplying commercial quantities of high value organic produce and generating employment for several people.
Steve Glover initiated and manages the project working a considerable number of hours to address all aspects of the business development and food production along with the needs of the client group. Some aspirations such as the farm shop and café are on hold while funding is identified. Steve is extremely hard working and the project might struggle in his absence if for any reason he wasn't able to contribute so much so consistently.
Question for partners. How much horticulture land is owned by the local administration and how is it used. Are there existing strategic visions or do things proceed on a more random basis as and when projects arise.