Urban agriculture center in Oslo in 2015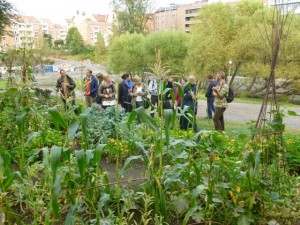 Post by Marianne Leisner (Gaia Tjome, Oslo Kommune) participant in Urban Food Strategy Mix Workshop.
We are three persons taking the initiative to do the necessary research and meetings that should result in a physical urban agriculture centre in Oslo in 2015.
We have made a temporary title for an urban agriculture association. We want to use 2014 to cooperate with the NGOérs, civil servants, business world and grassroot movement to find the best site for the centre, how to finance the centre, what activities should be in the centre and how to make it a model for other Norwegian cities.
In Oslo both the politicians in the municipality and the county governor ask for an urban agriculture center.
The three of us who will work with this, if we can finance it, have together a broad experience with projects like MAJOBO (food and soil where you live – http://majobo.no/), urban agriculture report, cooperative delivering food directly from farmers to city people, permaculture, school gardens etc.
We imagine that the centre should be an arena for networking and information about all the food production and possibilities in Oslo. We want to connect people with soil and growing projects. We want to spread knowledge and seeds. The municipality in Oslo have decided to be positive to people who want to grow food in public parks, the centre could map cites for both public and private soil that is available for hands on experience. We have a lot to do….. and need support in all ways!!