Brussels local newsletter about sustainable food is out!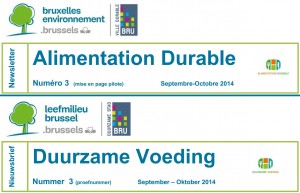 The newsletter is sent to local public administrations in the city and gives a heads up on Brussels Environment projects regarding sustainable food. Thus, this third newsletter provides information about environmental education through sustainable food projects such as Bubble. It also reminds about the actions currently taking place in Brussels-Capital region, such as the European Week for Waste Reduction (in November) or the project Jard'inspiration. The newsletter provides as well news on the on-going project in Brussels.
Finally, it talks about us! The newsletter gives news about Amersfoort's LAP and about our last transnational meeting on "Enjoying" in Vaslui.