Mayor of Athens announces open dialogue for a sustainable food policy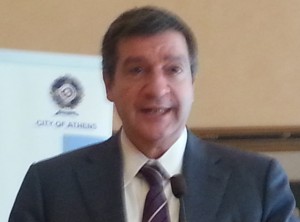 MAYOR OF THE CITY OF ATHENS, MR. YORGOS KAMINIS on 5 February 2012
Ladies and gentlemen,
Athens welcomes URBACT partner cities representatives and our guests to todays' meeting for Sustainable Food for Urban Communities [see partner  meeting article].
We are excited to announce that Athens is the first city in Greece to initiate an open dialogue for a sustainable food policy in urban centres.
Over the past five years the economic crisis has deeply affected every aspect of city life.
The City's primary concern was to offer solidarity for :
Thousands of citizens who are unable to sustain basic nutritional and housing needs; And for
vulnerable social groups from all walks of life, all nationalities and all religions.
And we would have been a great deal less successful without the civil society organizations and the private sector who responded immediately to the crisis and have contributed greatly in helping those in need.
As a result of the crisis we have all changed. Obviously, this change has had both positive and negative affects. One positive outcome is that the food system from production to consumption became a central issue in this turbulent time.
We are reconsidering lifestyle choices and values that lead to thoughtless overconsumption and external dependency for basic needs.
We are focusing on the basics and what is truly important: providing for those in need, safeguarding the health of our citizens, and developing new ways to achieve sustainability in most aspects of urban life.
While addressing the urgent food issue, in an effort to provide a sustainable food system for Athens we also researched the agrifood sector.
Our first initiatives and actions such as vegetable school gardens, food waste management, awareness raising of sustainable food practices and support to civil society actions seem to be in the right direction.
A return to overconsumption with all its consequences is not an option. There is a need to better determine our demand patterns and consumption models. As most European cities turn towards resilience and sustainability, it is necessary to focus on new sustainable food systems that can be summarized in four words: healthy, local, ecological and fair.
Athens is a demand based society. Changing our nutrition patterns will have a positive and long lasting impact on the agrifood cycle within the Athens metropolitan area and eventually the entire country.
Dear friends
When it comes to food systems, urban resilience is an imperative for all modern cities. We can have the best of results by pursuing it in partnership.
Thank you for your presence and welcome to the Urbact Athens meeting!