A sweet happy ending for Urbact II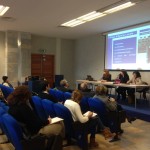 Tuesday 14th April, at the Palacultura Building, the final event of Urbact II took place.
The event was well attended and there were more than 5 speakers.
First of all, Mr. Tonino Perna Councillor of the Municipality introduced the meeting, and Mrs. Daniela Catanoso, local coordinator of the project, explained the key factors that were instrumental in the project up to the realization of the Local Action Plan.
Afterwards Mr. Giacomo Villari, local support group coordinator, explained to those present at the meeting, the swot analysis (strengths, weaknesses, opportunities and threats) of the LGS' partners.
Next, the LGS' partners described the project produced during the 2 years experience and the participants started to discuss and analyze the results.
Furthermore, of great importance was the short presentation of the Managing Authority FESR and FSR who explained the links between the region and the city and the opportunities addressed by the young Sicilian entrepreneurs.