POC Playful Paradigme, Udine- IT
Playful paradigm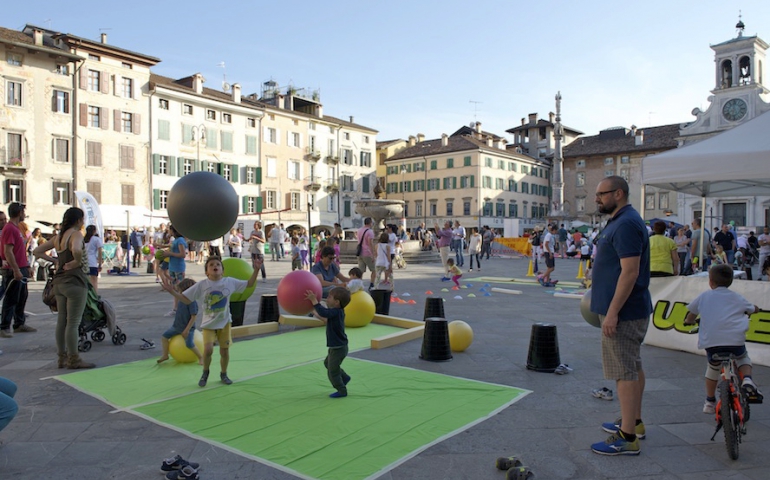 Playing and participating
The City of Udine in Italy meets head-on the challenges of an actively ageing population, of climate change and energy efficiency. Top-down policies are not enough, so Udine has implemented a paradigm which leverages on participation and gaming to trigger responsible change.
Primary examples of playful places are the Move your mindscommunity centres, the Municipal Toy Libraryand its public park, the Travelling ToyBus, the city squares during the World Games Day, the math contest Pi Day, Darwin Day, The Night of Living Books, etc. Programmes have been co-created by using playing as the main paradigm, such as the Energy In Playannual fair, and they have contributed to the improvement of urban places and raised awareness of health, energy and sustainability issues.
Using games as a way for place-making
Awarded and labelled as a 'Good practice' by URBACT, it stems from using 'games' as a flexible and innovative co-creating place-making paradigm, in addressing the needs of an actively ageing, energy aware, equitable and democratic society. Evidence shows that it is easier to learn and establish relations through playing, because cultural differences or physical and cognitive deficiencies, or mere unawareness, can be easily compensated by emotional reactions.
The Playful Participatory Paradigm can increase the capabilities of urban areas to answer to local challenges, promoting intergenerational solidarity and fair behaviours as well as a smart integrated urban development.
Project holders: Udine – IT
Stakeholders: This case comes from the Playful Paradigme network co-financed by the European Union through the URBACT programme.
Credit photo: Udine – IT