ST ORENS, CO-CONSTRUCTION OF A VISION FOR STRATEGIC ORIENTATIONS
St Orens is a 10000 suburban city East of Toulouse hosting March 28th a visioning atelier in the perspective of finalizing the Agenda 21 at the end of the 2013.
It was for SDS and ARPE the occasion for piloting some of the tools from the Visioning Toolbox for Sustainable Transition of the Territory developed with Commissariat général au Développement durable of the French Ministry of Ecology, Sustainable Development and Energy together with 4D and ETD.
Within the normal process of setting up and Agenda 21 as defined by the National Reference Framework, the diagnosis and challenge definition phase is directly followed by the definition of the Action Plan. The Action Plan tends then to gather all possible action for sustainable development often then lacking from synergy between the action and strategic thinking of the plan. Corine Cabassud, elected representative in change of forming the Agenda 21 for the Municipality of St Orens and Vanessa Gordillo Agenda 21 co-ordinator decides to introduce an intermediate step in between to build to build a vision for a sustainable St Orens and elaborate strategic orientations for the emerging Agenda 21.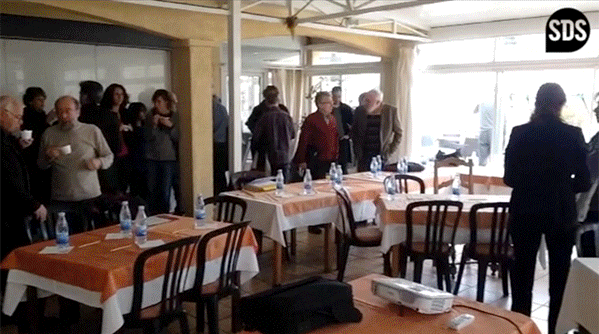 Main steps of the visioning process reviewing Agenda 21 hypothesis of evolution pictured by imagined press releases, projecting into challenges likely to happen in 2033 and backcasting strategic orientations for 2013…
35 citizens, civil servants and elected representatives interacts one day on the basis of the first set of visioning tools form the toolbox:
#2 _ setting the strategic environment context' reviewing a series of newspaper's titles hypothesis of evolution of Agenda 21;
#3 _ robustness resilient test' based on a serie of 7 grand challenges picturing 'shrinking public social services'; 'failure of representative democracy'; 'out of date public policies'; 'endogenous urban expansions'; 'public transport bankrupt'; 'abandoned rural spaces' or 'organic food jacking'!
#5 _ strategic orientations for local sustainable transition where participants plays the role of journalists investigating how St Orens cope with these many challenges in 2033 and reporting back how choices in 2013 and in particular in terms of Agenda 21 settings plays a determinant role. They sketched 7 complete hypothetical dossiers attributed to the local Déphèche du Midi.fr website.

Among more classical strategic issues for Agenda 21 such as fostering participation, building community, supporting solidarity, the following points emerged and were debated:
• Collective responsibility between all players on the territory: the periurban interwoven problematics of maintaining agricultural land against urbanization pressure, low salary employes in St Orens crossing everyday middle-high incomes working outside the municipality; growing road traffic and lack of public transports, etc. call for a more systemic approach between all stakeholders on the territory and the Agenda 21 should be a wide and flexible enough sustainable transition tool to engage this systemic interaction.
• Sustainable value creation models and green jobs: between already existing local services and attracting unlikely large manufacturing activities, the very sustainable transition process may constitute an important vector for an entire new range of green local businesses. As for instance the Brussels-Capital Region Job-Environment Alliance, a systematic review of potential new sustainable value creation models may  generate local jobs and reconvene the Agenda 21 with the private sector…
• Societal education towards sustainability: raising sustainable awareness appears clearly as burning issue. Beyond initial and professional education for sustainability, the role that local public authorities in supporting informal societal education from how public green services may raise awareness in citizens daily life to the training of elected representatives and civil servant to sustainable development is a potential hot topic for Agenda 21.
• Transversality between Agenda 21: beyond Agenda 21 fostering transversality between silos of the local public authorities, the risk of multilevel Agenda 21 or Agenda 21 close one to another in suburban territory being themselves silos and lacking from synergy and coordination emerged as an interesting and critical issue to be addressed.
The outputs of the day will now be analyzed and synthesized into a strategic orientation plan to be approved by the municipality…
François Jégou, 29/03/2013