Lyon transnational « Delivering » workshop programme and presentations
Wednesday 4 June 2014
Workshops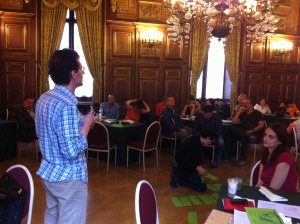 List of lessons learned (priority check list): Why other cities would look at our delivering processes? The initial questions were completed or regrouped by theme.
LAP crash tests: it aimed at reviewing and improving the LAPs. The first part focussed on a "Crash test' session, where the purpose was to collectively challenge each partner city current stage of the LAP.
Site visit

La Passerelle d'eau de Robec: a social and solidarity based grocery in the centre of Lyon. It is also an NGO which organizes workshops (information on health, cooking courses, artistic and cultural activities…). A blog post has already been written on this project.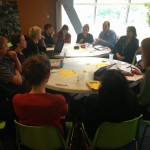 Speed presentations
Six projects presentations by Lyon LSG and 8 projects presentations by the partners. Videos are available here:
– Clémentine Tourgon, Guild of Arts and Crafts (Lyon)
– Cecilie Daws (Oslo)
–  Leif Strand, A small scale entrepreneur in Gothenburg (Gothenburg)
– Alberto Gonzales, Council market (Ourense)
– Daniela Catanoso, Strategic actions (Messina)
– George Keranis, Delivering strategy (Athens)
– Joséphine Henrion, Sustainable food communication strategy (Brussels)
– Stefan Dudau, Food safety in local distribution (Vaslui)
Thursday 5 June 2014
Workshops
LAP crash test & improvements:  the second part of the "crash test" aimed at building on the first day critics to propose an evolved version of the LAP and test it a second time for improvements. This session was shortened, thus partners couldn't propose evolved version of their LAP. However, they discussed their LAP with their LSG or other partners.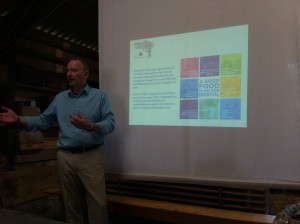 Mayors challenge – A vision for Bristol (The Learn Grow Eat Revolution): the Mayors challenge has been initiated by NYC Mayor Michael Bloomberg last year in the USA. It has been launched in Europe this year with 155 applications (by city halls). The aim of this challenge is for organizations to submit their ideas for a better cities to their elected officials. Then, the elected official choose one project to submit to the Mayors challenge. In Bristol, the Learn Grow Eat Revolution was selected for the challenge. The project is to build a "Good Food Market" which is an alternative supermarket (local food, purchasing directly from the producers as much as possible…). The project will be implemented in a food desert where 23% of the people do not have an easy access to fresh food. A survey was conducted and showed that 80% of the people around the area said what they need most is a supermarket. But the project aims also at job creation (lots of unemployment in the area) and education, training to the food system.
Site visits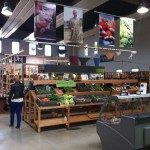 La Super Halle:  a structure which regroups producers, grocers and a restaurant. The 17 producers sell directly their products and they all come from 80 km around the Halle. The organic grocery proposes about 2.000 products, bulk products (flour, cereals, coffee…). The restaurant uses mostly products from the shop. (Speed presentation in Messina)
UniFerme: it opened in 1978 at 25 km from Lyon city centre. It is one of the first producers shop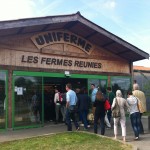 in France. The products do not have organic labels (except for one) but they all come from agricultural farming and the cooperative sat up common rules for their production (no GMO, no pesticides…). Each producers sells 100% of its production at the shop.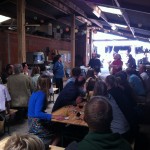 Les Clarines farm: an organic milk farm since 40 years. They directly sell their products in a small shop (milk, cheese, yoghurts…) but they also organize an organic market every saturday in the farm with local producers, an organic milk festival (300 people had breakfast at the farm)…
Friday 6 June 2014
Workshop
Wrap Up session: Discussing the results obtained on the workshops and about the Handbook.
Each partner presented their follow up actions (3 by partners).
Next meetings were discussed (Vaslui in September 2014 and closing conference in Athens in March 2015).