POC Hub by Suez
Bring the stakeholders to a boil!
Collaboration platform
TheHub by Suezwas born of the desire to listen to the region and to conceive, for it and with it, solutions that meet its new and emerging needs.
Both incubator and accelerator of the region's ideas, it brings together start-uppers, researchers, engineers, students and local entrepreneurs to envision together here and now, the services and technologies of tomorrow.
Workshops, moderations, citizen surveys, multi-sector workshops, conferences, courses, shared governance, etc. Hub by Suez provides ideation and research processes in order to bring about innovation in drinking water, industrial water, waste recovery, sanitation, future services and the digital.
Third places available to the region
Hub by Suez intends to modify Suez's territorial innovation approach, a business historically turned towards its technologies and wanting to orient itself towards a culture of co-construction of services. The device's design was carried out with the help of the agency We Think Designwithin the framework of an existing third place in Eaux du Nord. In addition to the 100 m2 space integrated in Suez's headquarters in Villeneuve d'Ascq, the Hub invests in new spaces such as its Lens branch and, on request, in any meeting room to be transformed into a co-construction space!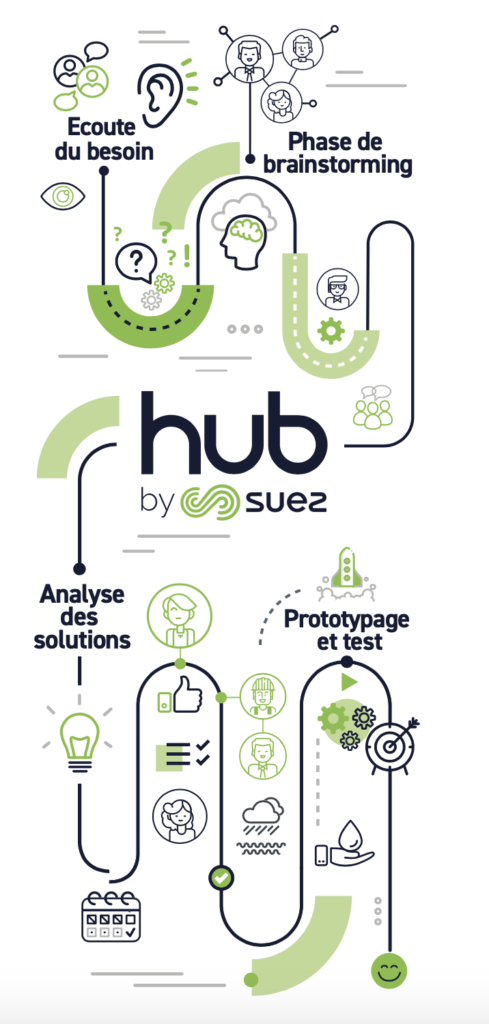 Project holders : Suez
Designers :We Think Design
Photo credits : Suez