The meeting of Vaslui County Rhapsodes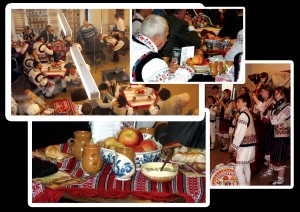 Local traditions are particularly treasured in Vaslui. They don't only have a museum existence, but are consistently promoted and revived, old traditional customs being viable today, by their presence and by bringing them in the contemporary artistic horizons.
Vaslui Municipality initiated the idea of a cultural event that will bring back into the community awareness, both authentic folklore creations and also old food habits, preserved and transmitted from generation to generation until today, as a guarantee of a healthy life.
Through the event "The meeting of Vaslui County Rhapsodes", Vaslui Municipality, in collaboration with profiled institutions at county level, preservers and promoters of the authentic local traditions, habits that our rhapsodes have vigorously maintained until today, were brought into the consciousness of our community.