La Miecyclette: Riders on the crust
April 24, 2013
Contributor: Lyon
Workshop: Resource efficiency – CO2 reduction /   Small scale transportation –  Food hub/logistic platform
This young company settled in a deprived area has been designed and founded by citizens.
1 baker + 2 riders = Organic bread produced and delivered by cargo-bike in Lyon.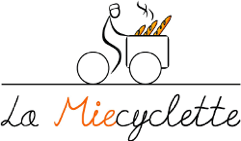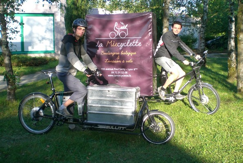 A network of citizen have imagined and designed this concept of local organic bread production delivered by bike. Out of this network, three young men eager to give more sense to there work have created the company: a baker and 2 young white collars found of biking.
Three men, 3 rules:
– Socially conscious company
– Eco-friendly system
– Sustainable quality food
Build up as a "cooperative", the company has been partially founded by citizens, becoming by the way shareholders. One man, one vote is one of the basic rules of "the cooperative". It allows a strong involvement of employees and shareholders.
Some personal money and a loan did complete the investment necessary to build up an all new wood baking oven. They settled in a deprived area of the city, for two reasons: a low estate market price and a strong will to bring something new in the neighborhood.
They produce 1 ton of organic hand-made bread per week. Most of the ingredients come from high quality organic suppliers and for specific breads from local producers. 20% sold in the shop / 80% delivered.
They use 3 cargo-bikes with electric assistance to deliver canteens, restaurants and purchasing groups. They also sell on organic street markets. The company has a turnover about 18k€/month after 1 year. They are expecting a balanced business in 2013.
Benefits (environmental/social/economical…)
Bikes instead of cars
Small scale combination of sustainable transportation
Company socially conscious
Organic product
Cross-cutting company : environmental, social and economical benefits
What are the lessons learn to be used/transferred/implemented in the other partner cities?  Local production