Gardenpark Laakzijde
August, 2013
Contributor: Houkje Hibma, Amersfoort
In the new district Vathorst inhabitants created "tuinpark Laakzijde" at the border of a agricultural and recreational area. A very good example of active commitment of inhabitants who feel the urge to grow their own food and meet each other in a kind of allotment garden.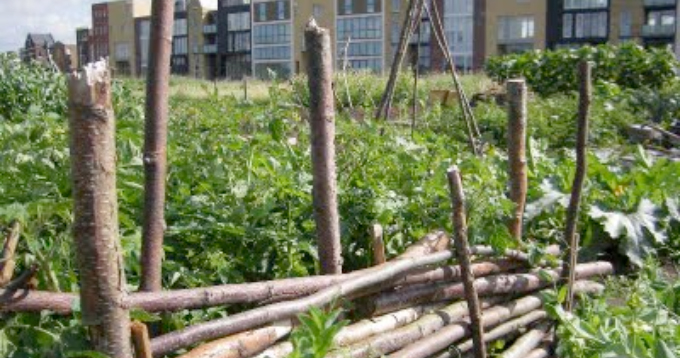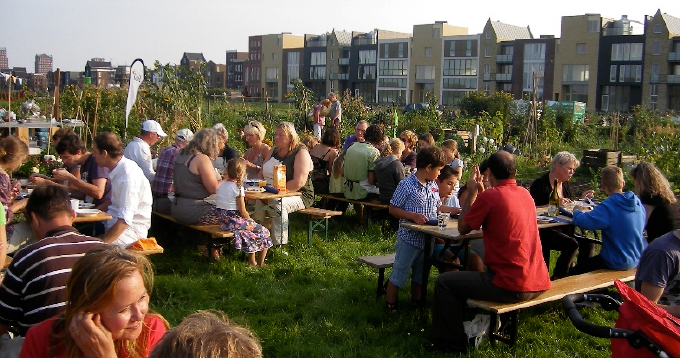 Inhabitants of new district Vathorst founded "Tuinpark Laakzijde" on land rented from a developer at the border of a agricultural en recreational area. Here in this ecological gardenpark inhabitants connect and grow their own food. Gardening is developed on the principles of permaculture. Besides allotments, there is also a collective part of the garden where food is grown for all members of Tuinpark Laakzijde and even for (if available) a few restaurants. Laakzijde also developed a nature playground for children in this district.
The allotment gardens do not fit 1:1 into the agricultural zone. Direct neighbours feared inconvenience and asked the municipality to maintain the rules. Because the gardenpark fits into the vision for Vathorst North, a future recreational outlet area, Amersfoort displays is a temporary license for 5 years.  The license includes conditions are made in consultation with the direct neighbours. Amersfoort is now actively looking for a new permanent place for garden park in Vathorst North. We review our policy on allotments and urban agriculture, which lacked the last 20 years in the new districts.
Question: How do other municipalities deal with initiatives that do not fit in the destination / regulations?
More information on:   http://www.laakzijde.nl/