Vaslui / food and sustainability
Growing
20% of the employees work in food industry, agriculture and food commerce. The 4.000 small agricultural farms registered in the Vaslui Municipality; exploiting an agricultural area of 4,700 ha (70% of the municipality total area) could satisfy the entire demand on the local market for the food supplies needed by the 73.000 consumers with "sustainable" products, even uncertified from an ecologic perspective, provided that these farms produced more than their own needs.
Because of land fragmentation and because of unfavourable social and economic factors, in most of these farms (small subsistence exploitations) the land is worked barely without any mechanization involved and with no fuel-based agricultural equipment, with no use of fertilizers and synthesis pesticides, growing stimulators and regulators, hormones, antibiotics (as producers do not afford to buy these products), animals and poultry are bred close to a natural habitat (with no use of additives, complementary substances and chemical synthetic substances in their food), while animal products are not processed.
The resulting vegetal and animal products are close to their natural condition, but they are not certified according to the national and the Community legislation as a product of "ecological agriculture" (a protected phrase that EU has attributed to Romania to define this agricultural system, which is similar to phrases such as "organic agriculture" or "biological agriculture" used in other member states).
Even though in 2011 Romania ranked first worldwide by the increase in the number of farmers certified within the ecological system, Romania being a leader in ecological agriculture for the south-eastern part of Europe, at the level of Vaslui Municipality, only 9 farmers are certified in the ecological system.
Small farmers are merely contented with satisfying the needs of their own households, without competing with "industrialized" products. They are not aware of the economic and social benefits resulting from their certification as "ecological farmers". They do not know the stages that must be followed in the strictly observed process aiming at the sales of products with "ecological" label (the national "AE" seal).
Almost 99% of the population provided with garden is growing vegetables and fruits. When living in flats, they tend to take it from relatives in the rural areas nearby (about 70% of them have this possibility). This tradition of self-production covers a large share of households' need of fresh food.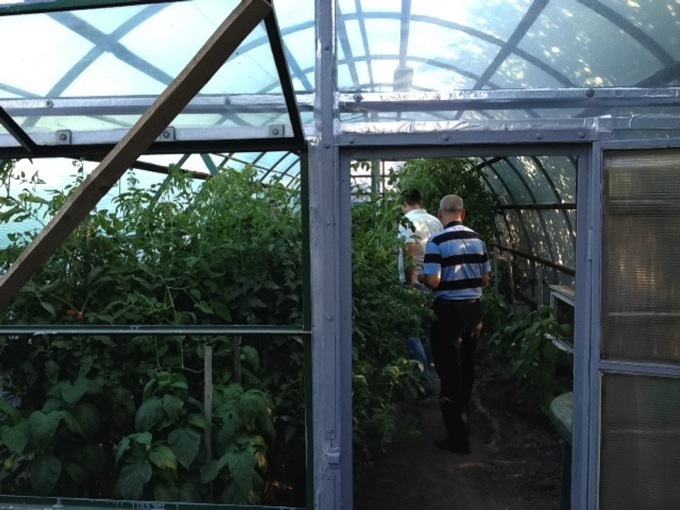 | Self-production private gardeners | Whatever is the size of the house and socio-economic level of its owner, beyond the garden's gate starts a real private food production with tight plantation of fruit trees, rows of vegetables and lines of grapes, rain water harvesting from all the roofs available, water tanks and some forms of irrigation system to distribute it.
Delivering
In Vaslui Municipality, there is a strong industry for the processing of vegetal and animal products: diary processing, milk being collected from agricultural farms in the county (i.e. milk processing, meat (pork, beef and poultry products) and milling products, bread manufacture, processing of bio-diesel and oleaginous pants).
Because of the small productivity and the inconstant production of small farms, no business unit in Vaslui is certified as "bio system processor".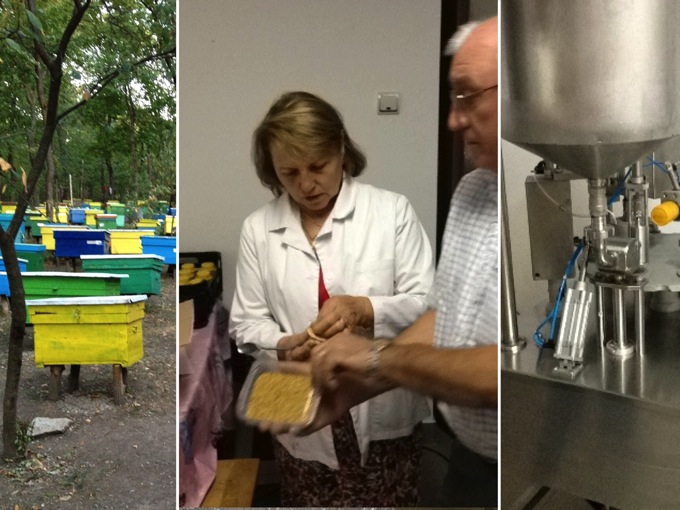 | Familial honey production | Consbit Srl is an example of small scale non-certified family food production: Mr Tibulca takes care of 200 hives installed in a wood in the outskirt of Vaslui producing about 6 t of honey per year. His wife is taking care of the packaging unit installed in a house nearby and his sister is taking case of the marketing. The all project has been supported by EU fund and is selling in the region and a bit beyond.
Most of the factories distribute the products through their own district shops. Fruits and vegetables are bought mainly from the market.
Despite this production and processing potential, the vegetables and fruit markets and stores are invaded by "chemically fertilized" products, which are bought because they are cheaper, while the areas especially arranged by the City Hall for the products offered by individual producers remain unoccupied. Supermarkets are being represented by 4 transnational firms (Kaufland, Penny, Lidl and Carrefour).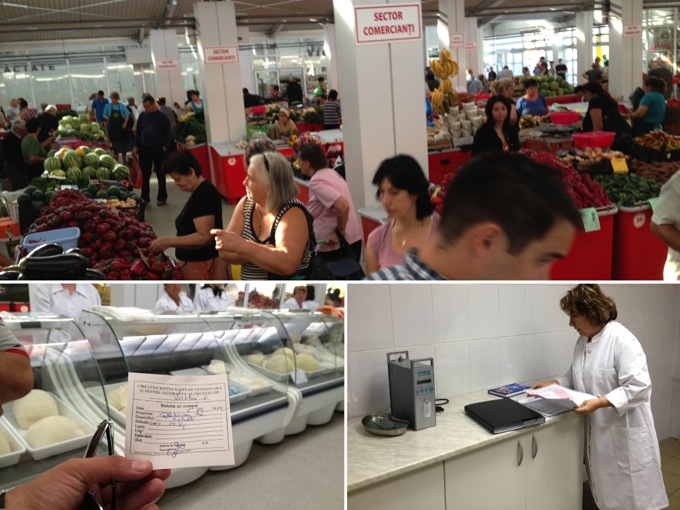 | Traian food market | The Traian market is a modern building divided in 4 sectors: fruits and vegetables; cheese and dairy; meat; fish. a special place is reserved by the municipality for the local 'producers' and avoid the stalls being all taken over by 'sellers' of less quality products coming from all the country. A food quality control laboratory is also installed in the market and seems to play an important role in the trust of the people.
With a budgetary allocation of almost 4 million Euros, local authorities are building a new market in which the local healthy products will be a priority. The market will be dedicated only for vegetables, fruits and fresh or minimal processed meat and milk products. Places for individual producers being distinctively marked from professionals merchants. Ion Mincu High school trains pupils for working in food chain (i.e. waiters, cooks, farmers etc.)
Enjoying
Most of the family budget is spent for food. It is customary that the food is prepared in one's own home, dining at the restaurant being occasional. Vaslui population buys more and more local products and starts to believe that they are healthier than any others. The involvement of local authority attracting the local producers to sell in our markets is helping to develop a proper "food culture".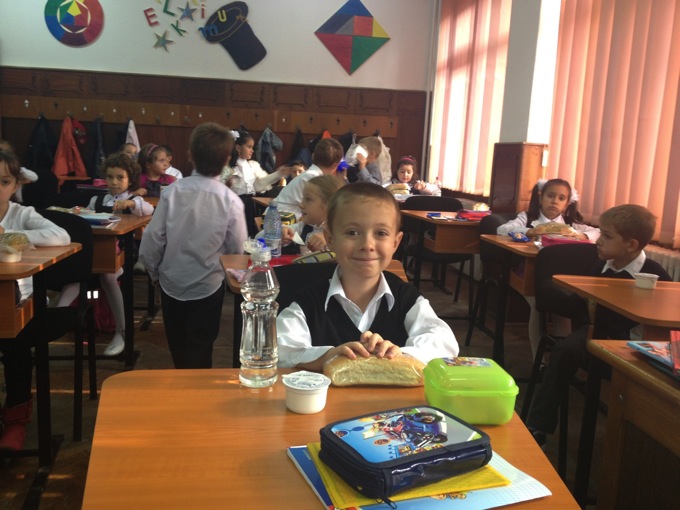 | Healthy snacks distribution at school | Funds are allocated from local and county budget to distribute fresh fruits and quality food products (milk and rolls) in all schools of the municipality. Most of the pupils are eating lunch at home and there are no school canteens. Therefore this initiative aligned with the National Program of Encouraging fruit/vegetables and fresh food consumption intends to raise youth awareness with sustainable and quality food.
There isn't a strategy dedicated to food field. Protecting the environmental capital (field, air, water) and the necessary actions to develop an ecologic agriculture that will use natural fertilizer and traditional seeds, allow nature to take its course and reduce the distance between production and consumers are general objectives comprised in Socio – economic development strategy of Vaslui municipality, approved through Local Council Decision no. 32/2009, strategy that has sustainable development of municipality as a general objective.
Actions:
– facilitate the individual producers of traditional products access in the local markets administrated by Vaslui City Hall (not necessary ecological certified products)
– promoting traditional or ecological local products through annual fairs organized in our city, where local or surroundings producers were invited
– stimulating consuming and changing the habits of the cultures used in the rural area of the municipality by inviting – at local events – individual ecological producers form different areas of the country.