Vaslui / Opportunities and challenges
A resilient city?
The conjunction of 3 key factors makes the situation of Vaslui city remarkable in terms of food resilience:
Vaslui is a middle size town immersed in a still vibrant rural environment. The local agriculture production is more than enough to feed inhabitant of the city and produce even surplus to be sold on the external markets;
Traditional practices of self-production probably reinforced during the domination of the communist regime result in a population highly engaged with food, growing in its own gardens, producing vegetable and fruits, making its own wine, buying seasonal to make preserves, piling stocks in purposely made storage basements, etc and demonstrating a certain autonomy;
The economical crisis hitting a population with relatively law incomes combined with a specific land division slow the possibilities of industrialisation of the local agriculture. Mechanization towards large scale intensive is difficult and small local farmers generally can't access unsustainable modern fertilizers.
As a combination of these different phenomenon, the city of Vaslui appears very close to what is commonly depicted as a resilient city demonstrating a capability to feed itself, based on local production and transformation processes that it keep under own control, with gardening, preserving and cooking skills distributed across a population involved in quality food and presumably a relatively high collective capability to resist to external perturbation.
At a turning point
A young couple met during the visit show a symptomatic profile. Both working in the public administration with relatively reduced incomes they have bought a piece of land with the intention to progressively spare money to build their own house. Do they intend to grow food in their garden then? Spend part of their days off to prepare their own preserve and make their own wine? The declared answer is yes. They are interested in food and would be proud in front of their relatives and in their circles of friends of making their own food products.
Contemporaneously the first Carrefour supermarket is about to open in Vaslui and one can legitimately wonder if all youth in Vaslui share the same values and ideal of resilient way of living.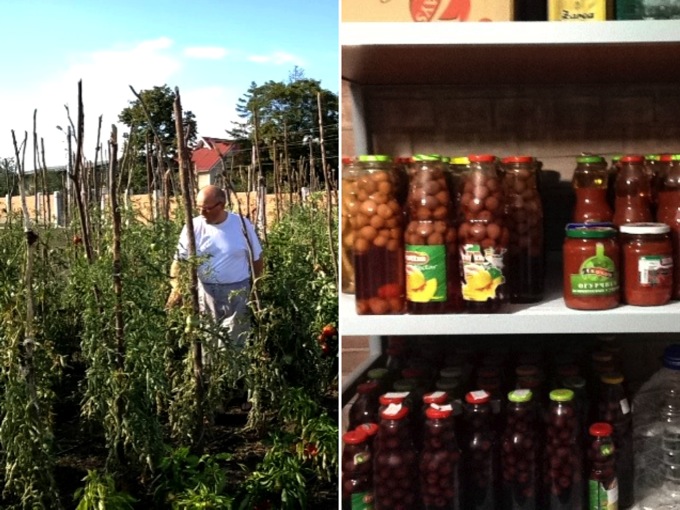 | Household resilience | Mr and Mrs Tinaru, a middle-high class retired couple is certainly not representative of the 3-4000 single family houses with cultivated garden. Their brand new house on a large 8000 sqm piece of land is much above the average line. But their engagement with food seems to be much more symptomatic: they are organized as a real self-production growing food in two on more than half of their plot, experimenting many varieties of grapes and tomatoes, making their wine and piling home made preserves in the summer, storing food in their 'natural fridge' specially made cave and welcoming any visitor with a complete tasting of their production. 
Vaslui is certainly at a turning point where it has to decide whether it will strive for economical development, industrialisation of the food sector, production oriented to exportation at European scale, etc or if it will leapfrog the emerging consumption society and leverage on its current assets in terms of food resilience to evolve towards a consolidation and reinforcement of its sustainable food system.
The municipality of Vaslui seems to be aware of this leapfrogging challenge in the way its socio-economic development strategy is formulated. Key issues seems to be:
to foster transformation of local farming and gardening increasing reasonably the productivity while securing its quality and sustainability;
to promote fair market access to local quality production whether it is certified or not in particular engaging in the building of food markets and promotion of annual local producers fairs;
to maintain and enhance the engagement of the population into food by encouraging traditional inclination and raising awareness to ecological production.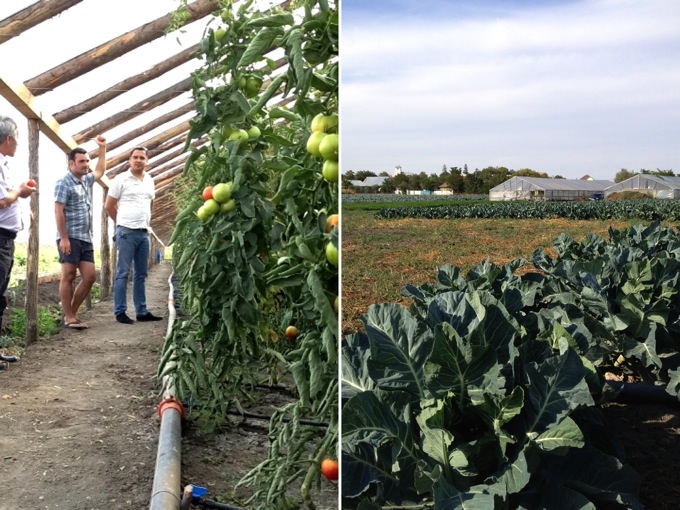 | New market gardening farmer | Marius Gorcea has been presented as the most outstanding representatives of the 4,000 farmers registered in Vaslui City. Former driver, he decided a couple years ago to set up a small market gardening business. Supported by EU subsidies for young farmers, he managed to pool 5000 sqm of land from 14 different owners. With barely no prior skills in agriculture he set up a vegetable production with better efficiency compared to family gardening and traditional small farm (i.e. larger land plots, irrigation, limited variety of vegetable matching the demand…) but still keeping the fundamental assets of traditional quality food gardening.