Oslo / Opportunities and challenges
Norwegian food culture
During the past decades, new food habits have emerged in Norway. Food has become more international, more diverse and more industrialised. Cities are more disconnected from food production and rely more on import and transport. City dwellers are disconnected with the origins of food. Since the 80's and throughout the 90's and 2000's convenient supermarket food has become the main food trend.
Norway is however "waking up" and rediscovering food traditions and developing a new sense of food culture. Food is receiving a lot of attention in the media and there are several popular TV-programs about food and cooking.
New policies
Urban agriculture has been receiving a lot of attention on a political level in 2012. There are allready opportunities for sustainable food in existing policy, and the suggested new agricultural policy for Oslo provides further opportunities. The politicians are discussing a centre for organic urban agriculture in Oslo. Participation in URBACT thematic network will help to put sustainable food on the agenda, politically, internally in the city administration and externally. A lasting focus on the topic will help support a relativley fresh food movement in Oslo and facilitate cooperation, motivation and inspiration to existing and new initiatives.
Green roofs
The potential for green roofs in Oslo has not yet been mapped, but green roofs are receiveing more attention, both from an energy perspective, from a climate adaptation perspective, from a food growing perspective and and a recreational garden perspective. For the new "Barcode" district downtown (the new high-rise buildings by the central station) the municipality included in the zoning regulations a requirement of a minimum of 50% green roofs. Oslo is planning or considering green roofs for several new buildings where Oslo can influence the development.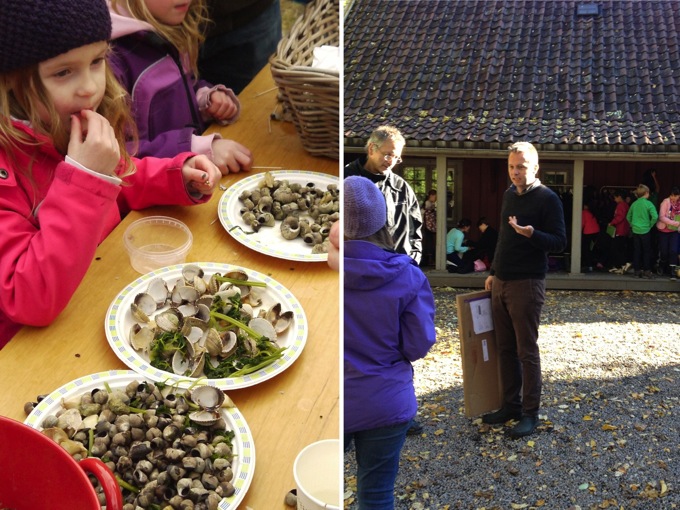 | Geitmyra Culinary Centre for Children | Geitmyra culinary centre for children wish to teach children about the joy of making and eating good food, about where food comes from, and the basic principles behind food production and manufacture. Geitmyra believes that enjoying food is of value in itself, but can also contribute to learning and enabling children to make better and healthier food choices. They strive to give children an understanding that every time you create and consume food you are a participant in the food chain.
A new movement
Spring 2012, the property developers in Bjørvika "Barcode District" decided on an art project; they wished to establish 100 allotment garden plots in the midst of highways, high-rise buildings, asphalt and dirt (see box). Through a newspaper article, they invited the people of Oslo to apply for an allotment, and after 4 days, they had received around 4000 applications (!) This seems to have hit a nerve and the property developers discovered a demand for land and an opportunity to grow food that was not predicted. Together with the MAJOBO project which has registered more than 80 organic food growing initiatives in Oslo, and more than 300 nationally, "The Glory" allotment gardens are enabling a movement of young gardeners, perhaps with a nostalgic and romantic approach to food, to access land and knowledge once lost, but now found. The young gardeners are looking for a sense of community, and through growing food, being a part of the solution for a better future.
Transport
The City of Oslo has done a possibility study to reveal the potential for an efficient city distribution connected to public procurement. "Project Green City Distribution" will develop solutions to achieve a more efficient and environmentally friendly goods distribution in the city centre. This will have implications for food as well as other commodities.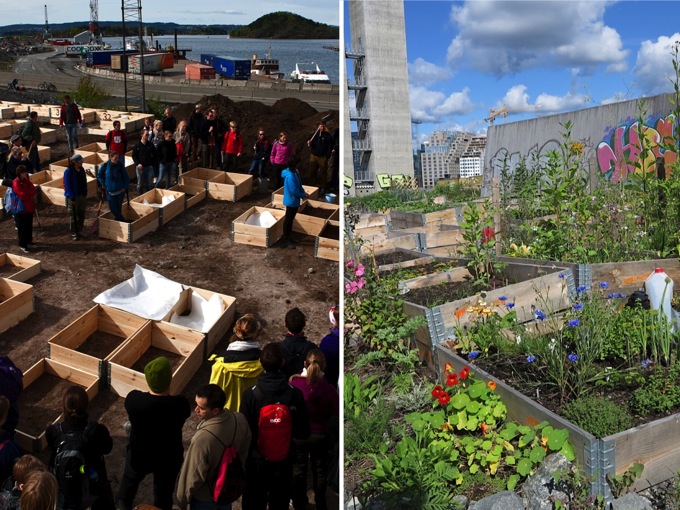 | "The Glory" allotment gardens | The Glory is an ecological initiative and project about urban food production initiated in April 2012. The Glory is located at a rocky "island" in the middle of a rough building site surrounded by roads, railway lines and the airing towers for the submerged tunnel underneath. As of today The Glory consists of three main parts: The Glory Allotment Garden with 100 allotments, a field measuring 250 m2 where several types of ancient grain such as spelt, emmer, einkorn and bere barley is grown and a program consisting of a number of events and seminars for learning and exchanging ideas. The level of pollution in the area will be monitored to gain knowledge about the conditions for urban gardening.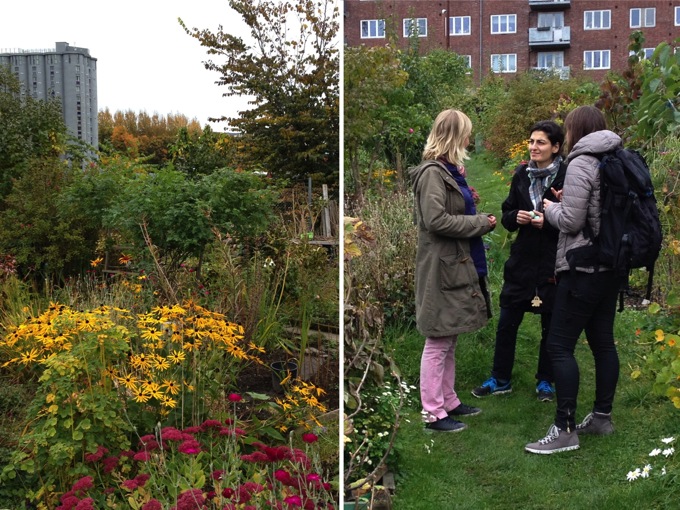 | Egerløkka allotment gardens | Egebergløkka allotment garden is Oslo's oldest allotment garden established in 1917 as "the potato allotments". The allotment garden contains several old fruit trees and has a magnificent view of the city. One of many projects in the garden is a social entrepreneurship project.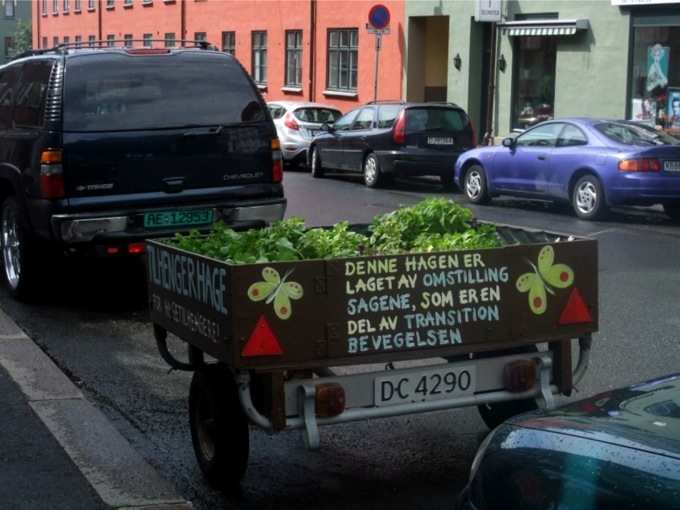 | Trailer garden – Transition Towns | Transition Towns Sagene planted vegetables, herbs and flowers in a trailer and parked in public parking spaces summer 2012. They did this to show that there is a great need for allotments in Oslo, and that the car gets too much space in the city. A very visible project which gave them quite some publicity.