URBAN TROLLEYS SERVICE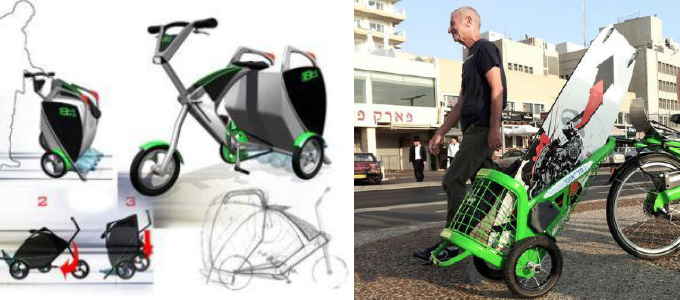 How to facilitate urban life without cars especially for the transport of wares and shopping?
---
Comment faciliter la vie urbaine sans voitures en particulier pour le transport des courses et marchandises?
Le service de caddies urbains fonctionne à la manière des systèmes de location de vélos et propose des caddies (poids/volumes difficiles à porter) adaptés aux obstacles urbains pour le transport des courses et autres encombrants entre des points de stockage répartis dans la ville.
Service de caddies urbains facilite et incite la vie à pied en milieu urbain et est susceptible de générer des emplois localisés de gestion/maintenance du service.
Le service de caddies urbains s'appuie sur le projet de fin d'étude de Michael Schnell (Strate Collège, Paris) de diffusion dans la ville des zones de stockage des caddies actuellement implantés sur les parkings des supermarchés.
Lors des déplacements urbains sur de courtes distances, les solutions de transport de marchandises encombrantes ou qui pèsent lourd sont peu développées.