GREEN CARETAKER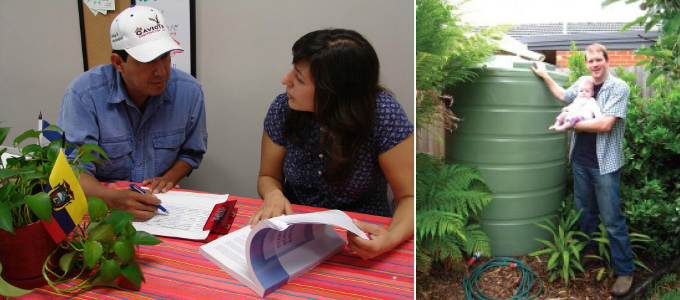 How to stimulate a sustainable transition to a micro-local scale of building, street or neighborhood? How to facilitate the transformation of consumerist and individualist lifestyles by the relocation of way of life?
---
Comment stimuler la transition durable  à l'échelle micro-locale de l'immeuble, de la rue ou du quartier? Comment faciliter la transformation des styles de vie individualistes et consuméristes par la relocalisation des modes de vie?
Les Concierges Verts sont des médiateurs sociaux chargés de stimuler la qualité de vie et la participation inter-individuelle  à l'échelle micro-locale d'un immeuble ou d'un quartier.
Le principe du Concierge Vert est basé à la fois sur le modèle des 'conciergeries d'entreprises' (ensemble de prestations de service du quotidien mis à disposition des salariés d'une entreprise sur leur lieu même de travail: pressing, repassage, retouche, réception de colis, vente de pain, soins esthétique, lavage de voiture, de la livraison de fleurs, prestations à domicile ménage, garde d'enfants, bricolage, jardinage ou tout autre service permettant de faciliter la vie personnelle des salariés) et en particulier de conciergeries d'entreprisse éthiques, durables, écologiques (prestataires sélectionnés selon un cahier des charges précis pour garantir bien entendu la qualité des services rendus, mais au-delà de cet aspect, la certitude pour les abonnés, d'avoir recours à des structures ou des produits qui placent l'humain au cœur de leur projet en respectant leurs salariés; protègent l'environnement; soutiennent l'agriculture biologique; appuient le commerce équitable de proximité, ou d'ailleurs quand cela est nécessaire mais aussi dont les prix sont accessibles à tous les salariés, quelle que soit leur catégorie socio-professionnelle).
Par ailleurs, le principe du Concierge Vert s'inspire aussi des expériences de médiateurs de quartier durable, maisons de l'éco-quartier, green broker, etc. mis en place/subsidié par les autorités locales pour organiser et animer la transition écologique à l'échelle du quartier (ressourceries, SEL, verdissement du quartier, séances d'information, opérations de sensibilisation, fêtes et animations citoyennes, etc…)
Le Concierge Vert agit comme vecteur d'incitation et d'activation de la vie sociale et durable dans le quartier. Il est financé en 1000e comme un concierge traditionnel et rémunéré en plus pour toutes prestations supplémentaires. Le poste peut aussi faire l'objet d'un partenariat public-privé.