TOOL LIBRARY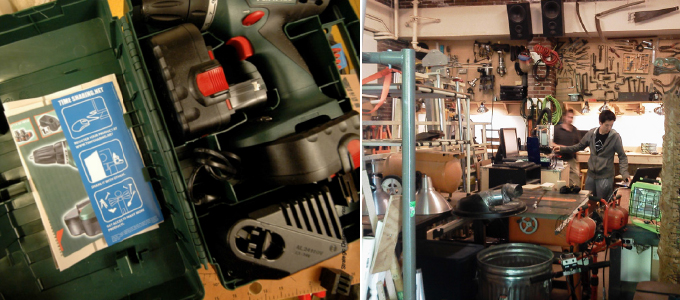 How to reduce the consumption of household tools (which have a low intensity of use)? How to organize an efficient and reliable pooling system?
---
Comment réduire la consommation d'ustensiles domestiques et d'outils dont l'intensité d'usage par les foyers est très faible? Comment organiser un système de mutualisation efficace et fiable?
L'objetothèque fonctionne comme un service de micro-leasing de matériel à usage domestique assurant la gestion, la mise en relation et respect des règles de fonctionnement sur à la fois un stock de matériel courant (à la manière des Tool Libraries publiques au Etats-Unis et des magasins de location type Qui-loue-tout en France) et la mise en location de matériel possédé par des particuliers (à la manière du projet TimeSharing.net qui propose une plateforme de micro-leasing entre particuliers).
Les Tool Libraries aux Etats-Unis fonctionnent comme des bibliothèques municipales qui prêtent gratuitement des outils aux citoyens qui ont payé une cotisation annuelle pour être membre. Le renouvellement des outils est financé essentiellement par les amendes pour les outils rendu en retard.
TimeSharing.net est un projet développé dans le cadre du projet européen de recherche EMUDE. Il consiste en une plateforme de micro-leasing d'outils et d'ustensiles entre particuliers. La plateforme assure la mise en relation du demandeur avec un offreur près de chez lui, la gestion d'une micro-assurance en cas de casse/perte du matériel et un système de suivi des prêts informatisé.
---
Toronto tool library