COLLABORATIVE NEIGHBOURHOOD SERVICES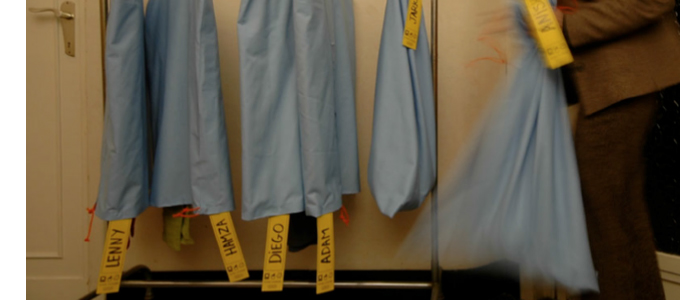 How to facilitate collaboration and exchange of goods and services between families of the same neighborhood? How to build trust between individuals, connect supply and demand, facilitate the exhange of flows, avoid conflicts, etc. ?
---
Comment faciliter la collaboration et l'échange de services et de biens entre familles d'un même quartier? Comment construire la confiance entre particuliers, mettre en relation l'offre et la demande, fluidifier les échanges sans pertes de temps, éviter les conflits, etc?
Les Services Collaboratifs de Voisinage sont des plateformes assurant la médiation de produits/services entre habitants d'un même quartier. Les principes des grands exemples de consommations collaborative (échange de maisons pour les vacances; auto-partage, etc.) sont déclinés sur la sphère familiale et les fonctionnalités du foyer: bibliothèque de quartier assurant l'échange de livres entre particuliers; micro-leasing d'ustensiles et équipements domestiques; échanges de portions et plats cuisinés; mise à disposition des appareils d'entretien du linge; etc.
Dans chaque cas, une plateforme permet la mise en relation fluide et instantanée des familles membres, l'existence d'un cadre semi-formel assurant la mise en confiance inter-individuelle, la constitution de réputations, le suivi et la médiation d'éventuels problèmes, etc.
Les Services Collaboratifs de Voisinage sont caractérisés par des échanges nécessitant la proximité urbaine, impliquant le fonctionnement de la sphère familiale intime et supposant une bonne réactivité et fiabilité.
La plateforme est constituée d'une application web (mobile) pour assurer la mise en relation, la confidentialité, l'immédiateté, le suivi, etc. complétée par une médiation humaine pour le recrutement, l'animation du réseau, la résolution de problèmes spécifiques et l'évolution/amélioration du système.
Les bénéfices des Services Collaboratifs de Voisinage résident dans l'intensification de l'usage des équipements ménagers, la socialisation de proximité pour les usagers participants et la création d'activité pour la conception, réalisation, entretien et évolution des outils web ainsi que d'emploi localisés pour la gestion, l'animation et la médiation.