JIM URBAN FARMING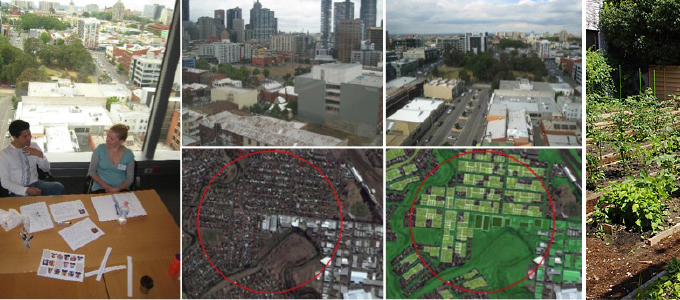 How to cultivate urban gardens which are not dedicated to food production?
---
Comment mettre en culture les jardins urbains très peu dédié à la production alimentaire?
Jim Urban Farming est un projet développé par Veil (Victoria eco-innovation lab, Melbourne) consistant à proposer la mise en commun des fonds de jardin pour générer des parcelles de terrain suffisantes pour assurer la subsistance d'un agriculteur urbain.
Jim Urban Farming est inspiré de Jim Lawn Mow une entreprise sociale de Melbourne qui propose aux propriétaires de jardin un service hebdomadaire de tonte de la pelouse par des travailleurs en insertion sociale.
Sur le même modèle, Jim Urban Farming incite à la mise en culture potagère d'une partie des jardins urbains (comme si un jardinier venait cultiver). Une petite partie de la récolte est donnée aux propriétaires comme rémunération symbolique de l'utilisation d'une partie de leur jardin (auparavant improductif). Le reste de la production est vendue  aux habitants du quartier (et auto-consommée par l'agriculteur urbain).
Un projet similaire à Jim Urban Farming est en cours de développement par la Municipalité d'Ourense, Espagne dans 10 villages autour de la ville.