SILOS PARKING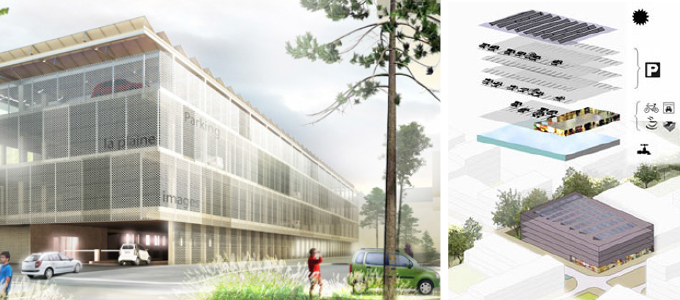 Parking silos multifonctionnels (quartier de l'union):
How to rethink the management of parking lots keeping the objectives of transition related to the development of soft mobility in the region?
---
Comment repenser la gestion des places des parkings dans le temps en adéquation avec les objectifs de transition liés au développement de la mobilité douce sur le territoire ?
Situés entre secteurs d'activités et d'habitats, des parkings silos sont appelés à être partagés entre habitants et entreprises. Ils accueillent en rez-de chaussée des espaces de commerces, notamment des services à la mobilité. Sur l'Union, le droit de stationnement n'est pas  fixe. Il est augmenté pour les premières années durant la phase de gestion transitoire du site, mais il sera réduit au fil des ans, lorsque l'offre de transport en commun sera optimale. L'évolutivité des parkings a été pensée dès leur conception. La hauteur sous plafond (3 mètres) permet éventuellement de reconfigurer ces parkings en bureaux. Par ailleurs, en complément de la réalisation de ces parkings, un accompagnement est proposé par l'opérateur de transports publics aux entreprises qui s'installent dans l'éco-quartier afin de réaliser des Plans de Déplacement d'Entreprise.